KC valley project STPs are breaching regulatory limits.
Updated Date: 23 Aug 2023 
KC Valley project that pumps secondary treated wastewater from Bengaluru city's sewage treatment plants to the rain-fed tanks of Kolar district is projected as a model project and a shining example of wastewater reuse in the country. Following this model is the Hebbala-Nagavara valley project, which pumps secondary treated wastewater to Chikkballapur District's lakes, and the Vrishabhavathi lift irrigation project, which pumps water to the lakes of Ramanagara, Tumkur and Bengaluru Urban & Rural Districts. KC valley project itself is expanded to pump treated wastewater to the lakes of Anekal Taluk. Leading newspapers report that the Central government is working to replicate the KC valley project nationwide. With such widespread enthusiasm by the state and central government to reuse secondary-treated wastewater, the performance of sewage treatment plants becomes paramount.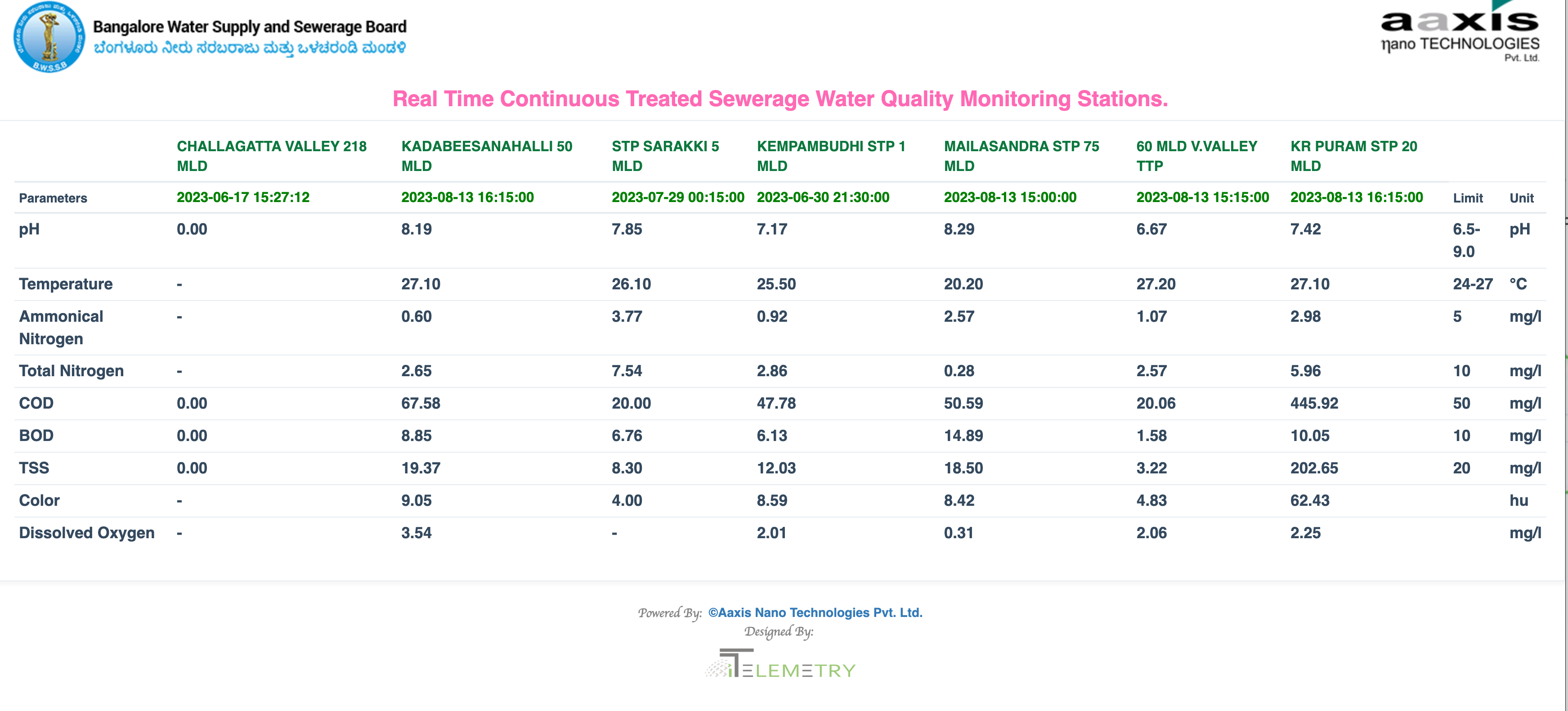 Bangalore Water Supply and Sewerage Board (BWSSB) operates all the five Sewage Treatment Plants (STP) of the KC valley project. Per the directions issued by Central Pollution Control Board(CPCB), BWSSB reports treated wastewater quality online. The effluent monitoring system installed at the backend relays treated wastewater quality data continuously to the online portal.
We scraped the online portal data hourly for all the five STPs of the KC valley project. We analysed seven months of hourly data from 01-Jan-2023 to 31-Jul-2023 for two wastewater parameters: Biological Oxygen Demand (BOD)  and Chemical Oxygen Demand (COD).  
Our analysis found that the online effluent monitoring systems did not regularly report COD and BOD data.
While KC valley-218 and KC valley-30 STPs didn't report any data, Kadubeesanahalli-50 STP reported only 41% of the time, and Bellandur Ammani Kere -90 STP reported only 21% of the time. KC valley-60 STP fared better, with 86% reporting.
This indicates a lack of transparency and does not inspire public trust in the operations of BWSSB.
Paani team visited BWSSB's Doddabele and Vrishabhavathi Valley STPs (They are not part of the KC valley project) as we had requested to inspect flow and treated wastewater quality records under Right to Information. During informal discussion with the BWSSB engineers we learnt that the sim cards of the online sensors were not recharged regularly. Thus the sensors were not transmitting data online. Besides, we also learnt BWSSB had let AxisNano's contract expire. AxisNano is the third party that maintains the whole setup. The contract expired a few months ago, and BWSSB is yet to renew it. This, to us citizens, is unacceptable. Online portal is the only avenue for citizens to know what is happening with the treatment plants. Without that, we are in the dark.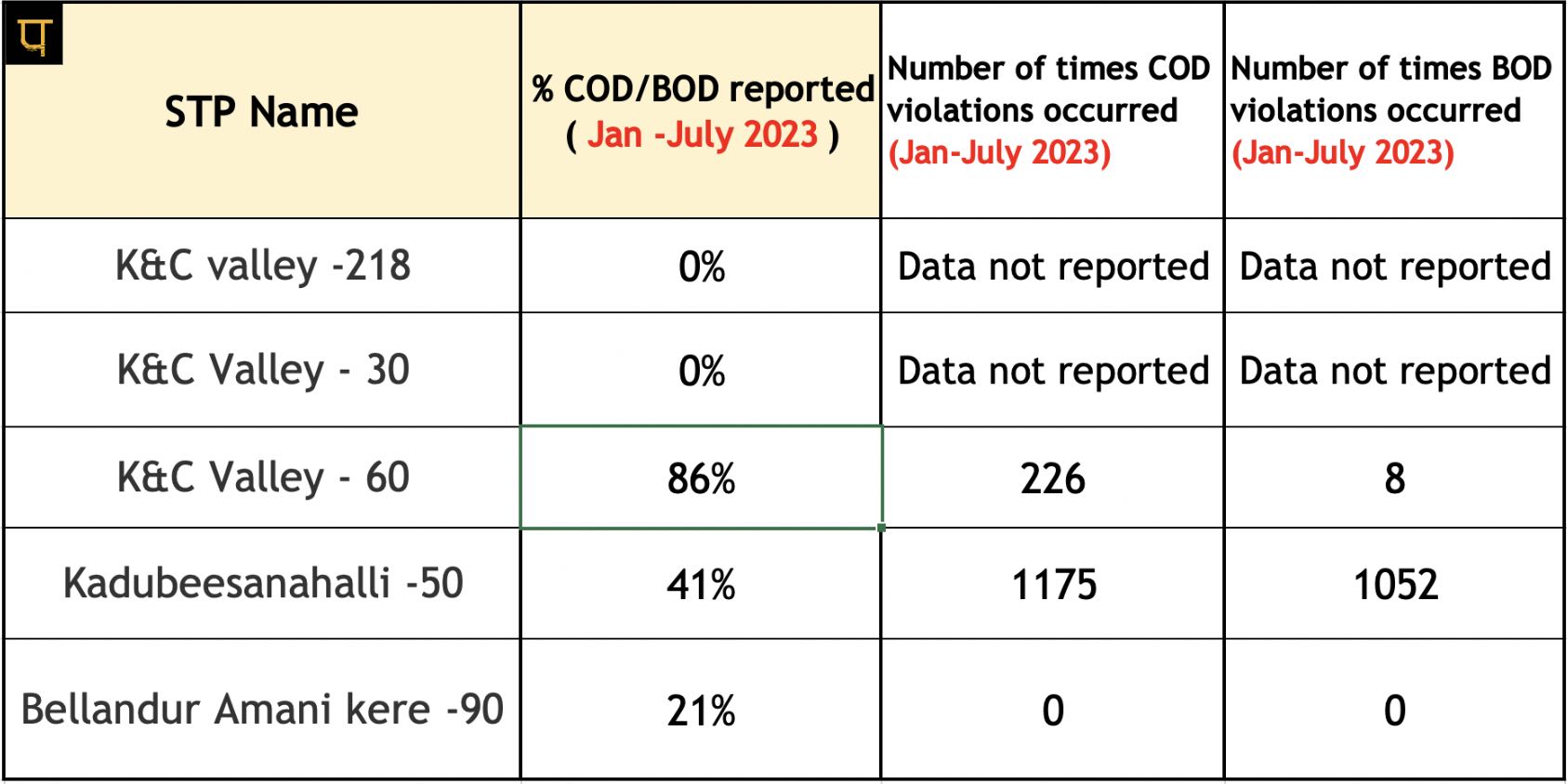 Furthermore, our analysis also found that (based only on the online reported data ) treated wastewater quality breached limits numerous times. (See the last column of image 'BWSSB Data Portal' which shows the wastewater quality limits)
Kadubeesanahalli-50 STP, which managed to report data only 41% of the time, breached COD limits 1175 times. BOD limits were breached 1052 times.
KC valley-60, which managed to report data 86% of the time, breached COD limits 226 times. BOD limits were breached 8 times.
This indicates that sewage treatment plants are not treating sewage consistently, per regulatory limits.
This also means that Kolar lakes are receiving dubious quality secondary treated wastewater from time to time. Again, this does not inspire public trust in the operations of BWSSB.
The CPCB's Compliance Reporting Protocols says about online monitoring: Server generates auto SMS alerts to the registered mobile numbers for deviations, if any. This indicates that someone is receiving deviation (i.e breach) alerts. Who that someone is and what action has been taken to address the deviations is unknown.
It is important to note that the currently prescribed secondary treated wastewater quality limits, to which BWSSB STPs are in violation, are inadequate.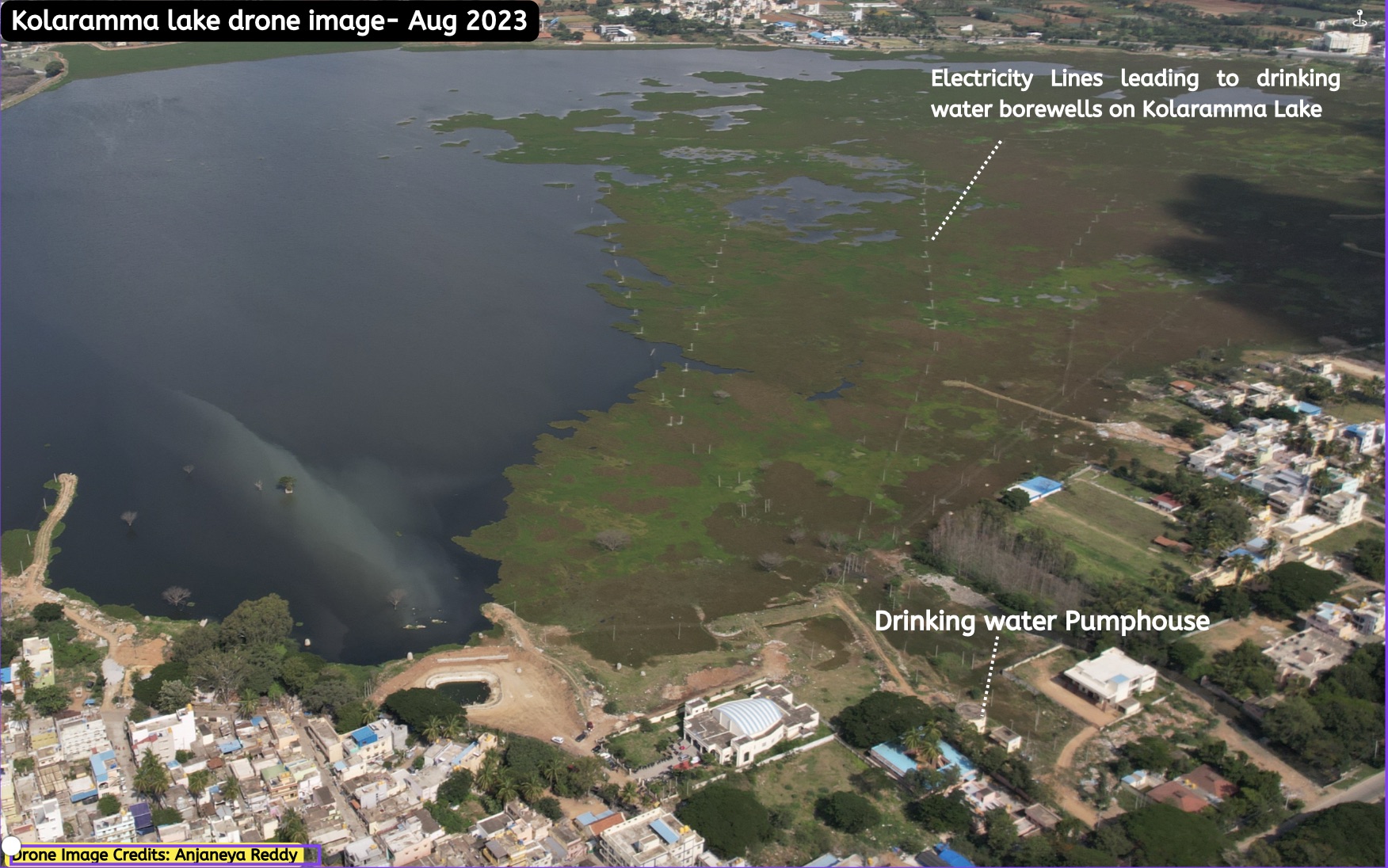 The national framework on 'Safe Reuse of Treated Wastewater' released in Nov 2022 by the Ministry of Jal Shakthi, suggests stricter wastewater quality limits for lakes and wetlands close to water extraction points for domestic water supply.
Incidentally, as discovered during our survey, many of the panchayat's drinking water borewells were either on the lake bed or on the lake's buffer zone. The residents near Uddapanahalli Lake and Somambudhi Agrahara shared their concerns about current drinking water situation:
The groundwater stored in overhead tanks develops algae (called 'paachi' in kannada) within days resulting in the frequent cleaning of tanks.
The filtered reverse osmosis water develops an odour quickly.
In 2018, Times of India reported drinking water borewell contamination in the Narsapura gram Panchayat, which issued a circular to the residents not to consume it.
Re-using treated wastewater is an important and necessary step, fraught with high risks.
Wastewater projects are riskier from a pollution perspective. If the wastewater is not consistently within limits, then the wastewater projects are pumping pollution. Without safeguards and mechanisms for corrective actions, pumping dubious quality wastewater in the name of reuse violates the right to life (under Article 21 of the Indian Constitution), not only for human beings but also for wildlife.
Considering there are many wastewater projects in various stages of execution, continuous monitoring and public reporting of the quality of treated wastewater is of utmost importance for timely action on the poor performance of sewage treatment plants. The government must set stricter treated wastewater quality limits for lakes and wetlands near water extraction points for domestic water supply. Most importantly, it must set up a committee to look gravely and scientifically into the riskier aspect of wastewater reuse projects: pollution. This is key for citizens to trust the government with wastewater-related projects in the state and the country.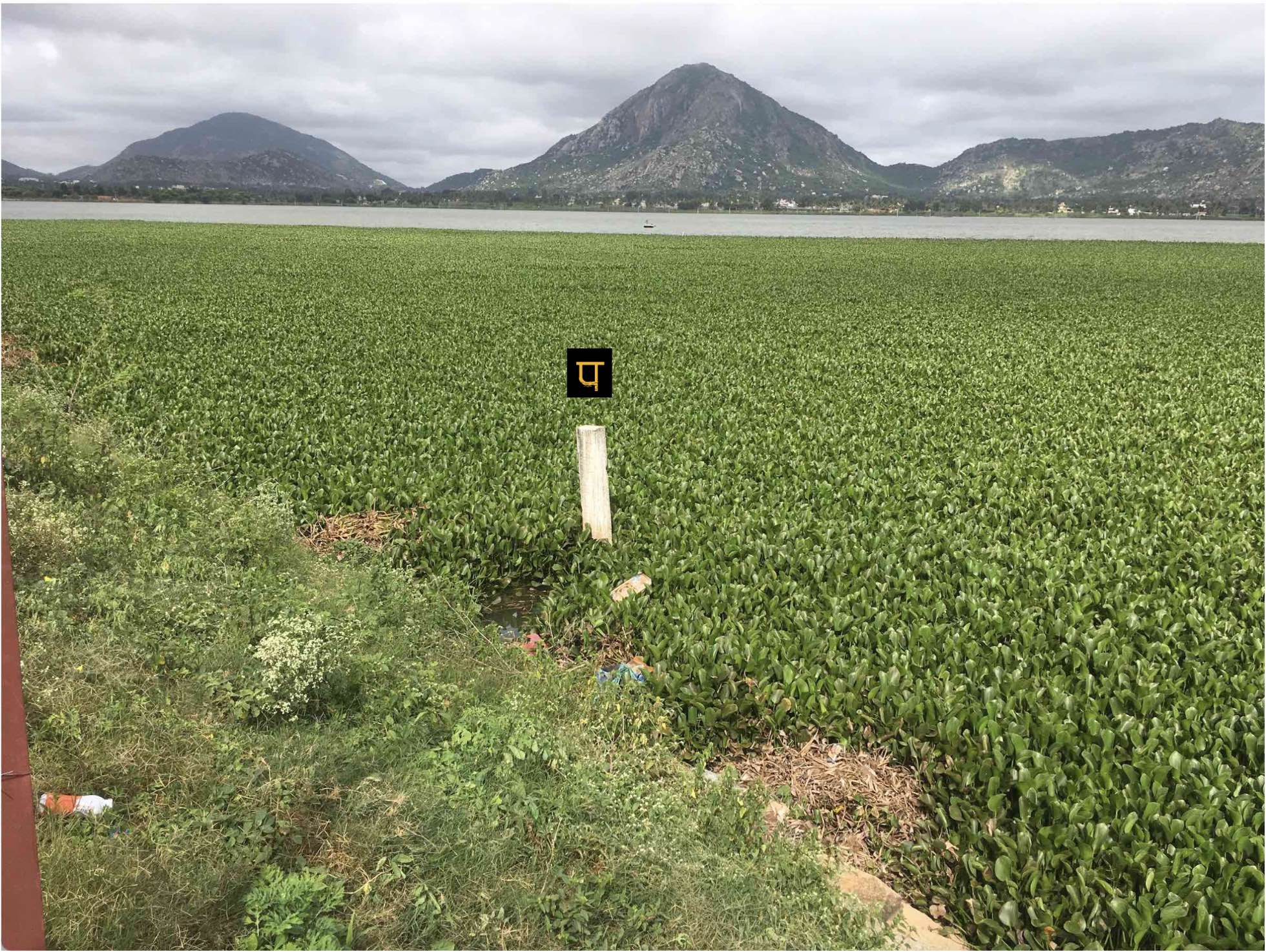 Citizen Ask:
Comply with regulatory standards.
Set stricter standards for treated effluents. This would mean KC valley project STPs upgrade to Biological Nutrient removal.
Do not send treated effluents that breach regulatory limits.
Develop standard operating procedures to deal with deviations (i.e. breaches) and put that in the public domain.
Improve transparency with online reporting and maintain real-time sensors/sim cards.
Allow unscheduled public inspection of the STPs.
KSPCB, which conducts periodic inspections of BWSSB STPs, must put their inspection reports online.
Set up a scientific committee to look into the riskier aspect of wastewater reuse projects i.e pollution