Lack of Surveillance by Karnataka State Pollution Control Board
Updated Date: 19 Aug 2023 
Karnataka is making substantial progress in the reuse of secondary treated wastewater. KC valley project that pumps secondary treated wastewater from Bengaluru city's sewage treatment plants to the rain-fed tanks of Kolar district is projected as a model project and a shining example of wastewater reuse in the country. While the state itself has numerous wastewater projects in various stages of execution, leading newspapers report that the Central government is working to replicate the KC valley project nationwide.
With such widespread enthusiasm by the state and central government, effective lake water and secondary treated wastewater quality monitoring becomes paramount. Public availability of such monitoring data is critical for public acceptance of wastewater reuse projects.
Our analysis of KC valley STPs indicates poor performance.
Our field survey of lakes receiving secondary treated wastewater indicates pollution.See the images of Kandavara Lake, Mustoor Lake, Kolaramma and Jodi Krishnapura Lake, filled with treated wastewater from the HN valley and KC valley projects. The images are inserted throughout the article. We can observe water hyacinth, an invasive species that thrive in polluted waters. It blocks the sunlight from reaching native aquatic plants and starves the lake of oxygen, killing the fish/turtles and other native wildlife.
For comparison, look at the image of Hessarghatta Lake and Kakol Lake, filled with rain run-off with no water hyacinth. All images have been taken in the last two weeks.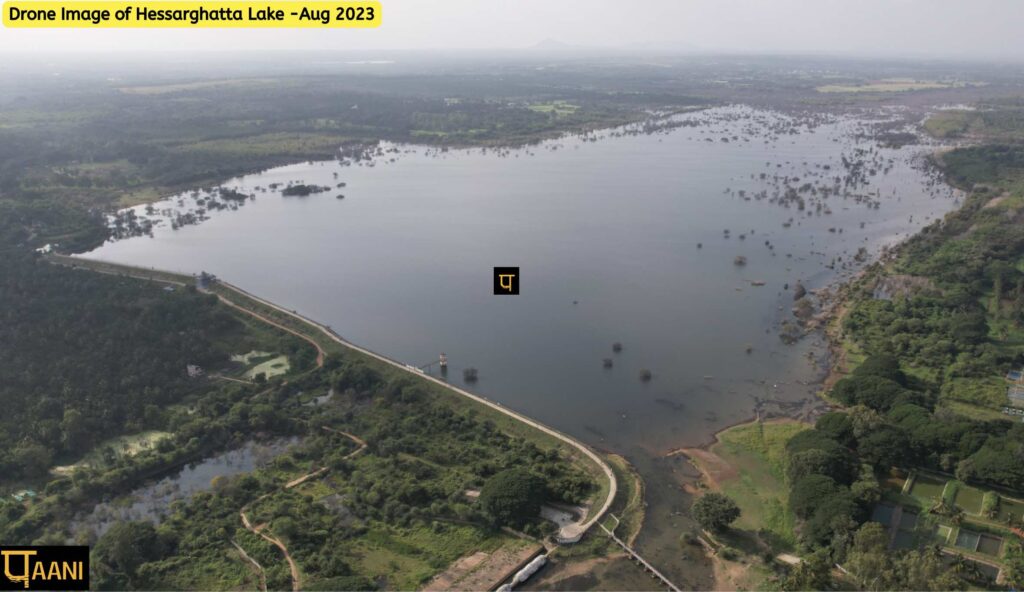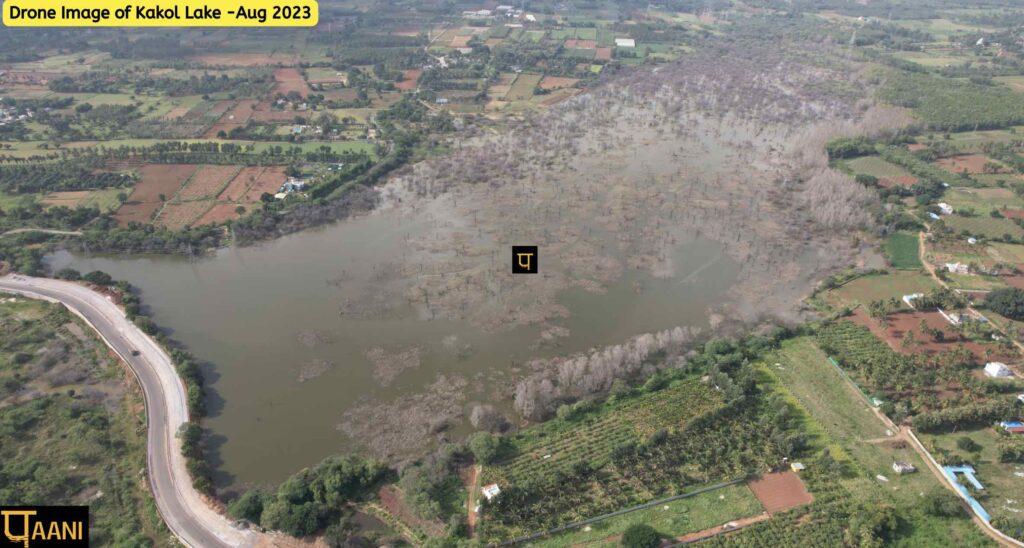 The Responsibility of Karnataka State Pollution Control Board (KSPCB):
The Karnataka state pollution control board  (KSPCB) is the regulatory body responsible for monitoring/assessing the water quality in Karnataka. It is responsible for facilitating the prevention, control & abatement of pollution in water bodies by working with the concerned government agencies. In the case of secondary treated wastewater reuse projects, where the pollution risk is high, KSPCB is responsible for surface water, groundwater and treated wastewater monitoring over a period of time. The monitoring would provide insight into the risks of the project and would also provide necessary corrective and remedial measures to mitigate the risk of pollution.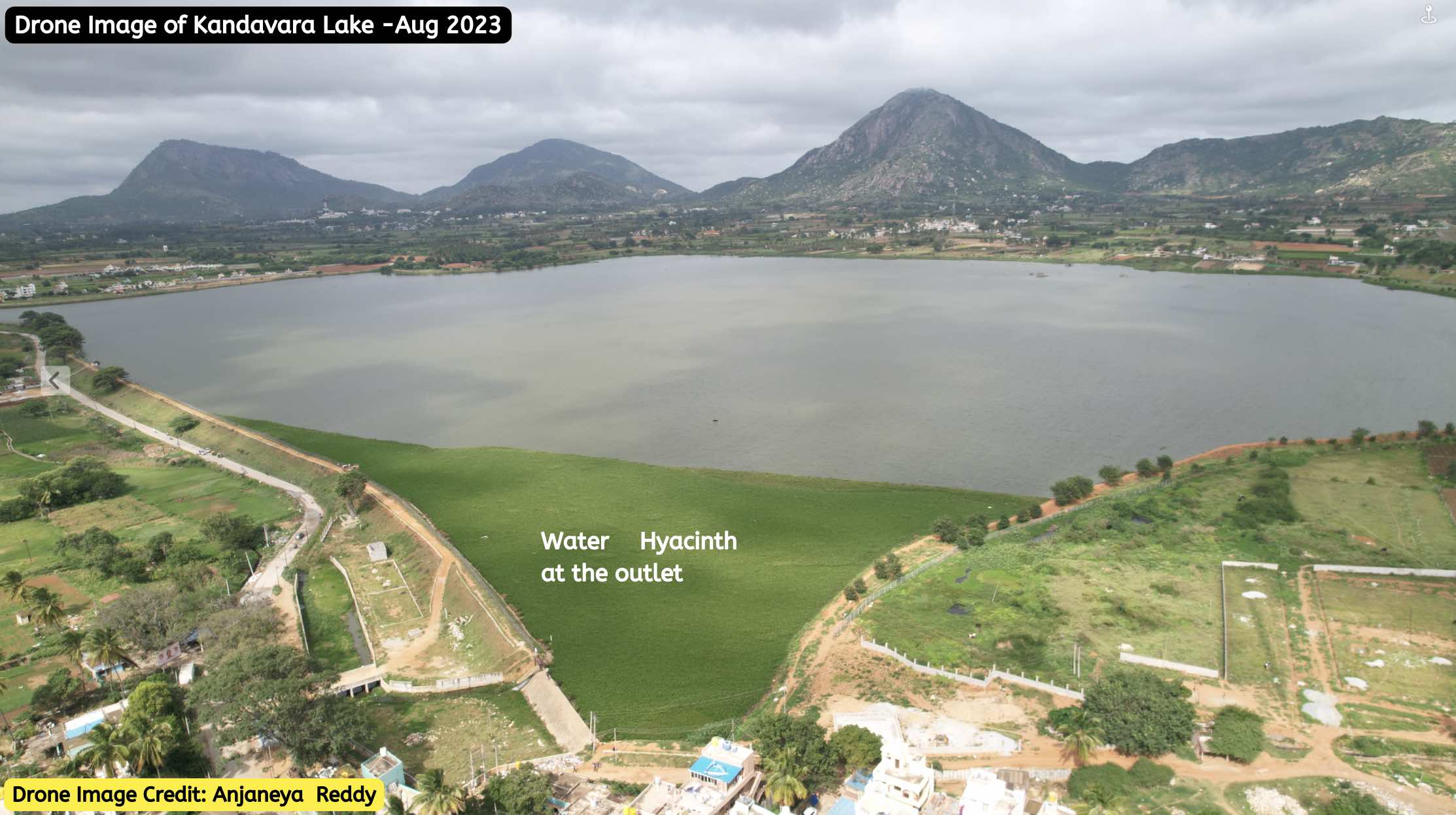 This monitoring process starts before the project's implementation when the baseline data is established. Typically a hydrologically intelligent water quality monitoring plan is developed for a network of rivers, streams, lakes & groundwater aquifers receiving wastewater as part of the project.  As part of the water quality monitoring plan, water quality goals are set for the waterbodies, and repeated observations covering different seasons are made. The water quality monitoring plan can include real-time monitoring of wastewater discharge points and lakes receiving secondary treated wastewater. It can also include investigations into the threat of emerging contaminants by engaging research institutes.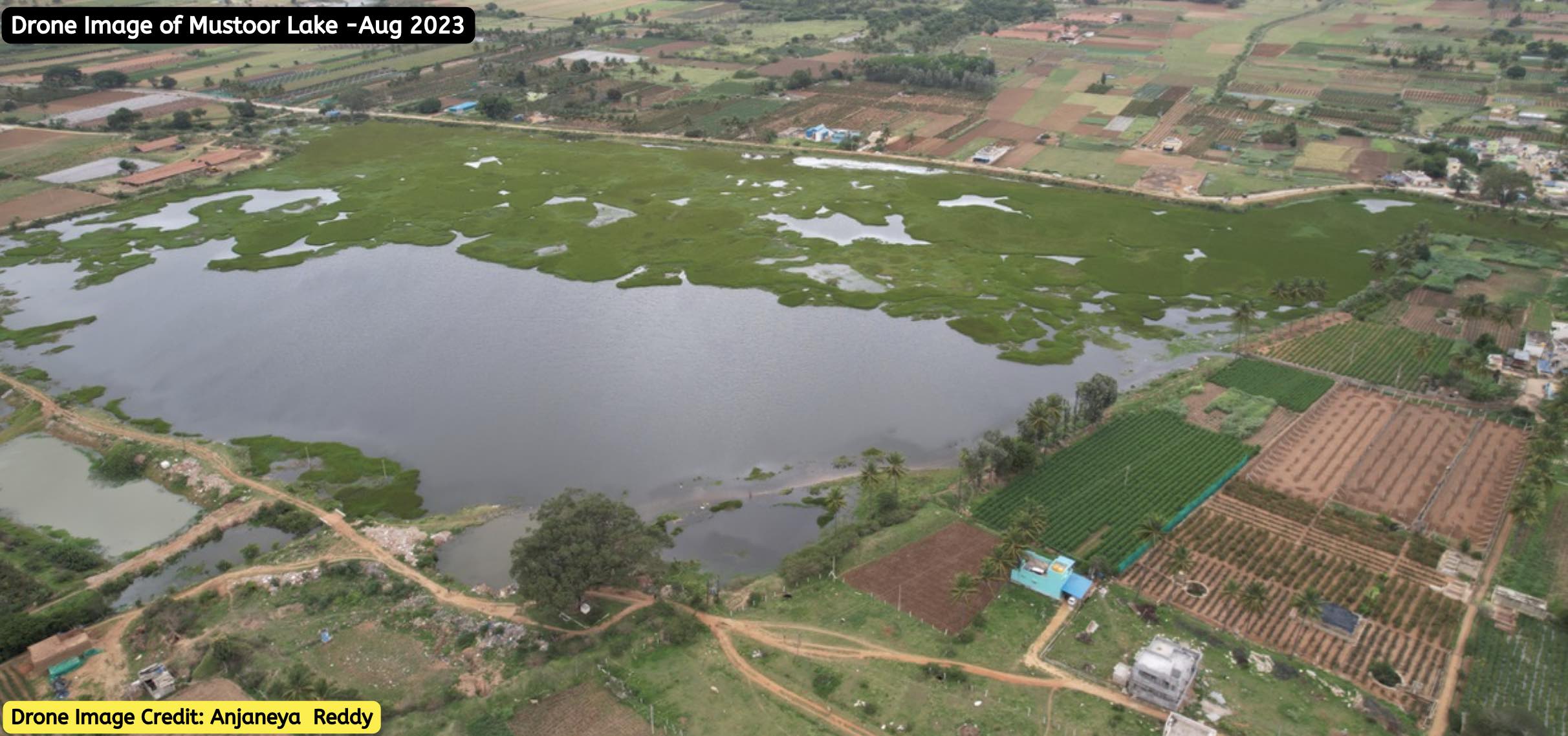 In addition to the physio-chemical & bacterial parameters, an assessment of biological parameters, including biological indices & trophic status, can provide a more comprehensive status of the waterbodies receiving secondary treated wastewater.
All this data is compiled and compared to the water quality goals. This comparison would lead to identifying gaps in water quality and help identify the nature and magnitude of pollution control needed.
Unfortunately, none of this exists today. The only thing that does exist: Out of the 122 lakes that are part of the project, KSPCB monitors three lakes (which are ad-hoc from the KC Valley project point of view), independent of the project, under the National Water Quality Monitoring Program (NWMP).  The three lakes are: Narsapura, Mulbagilu and Huldenahalli. All the three are represented in the KC valley project map.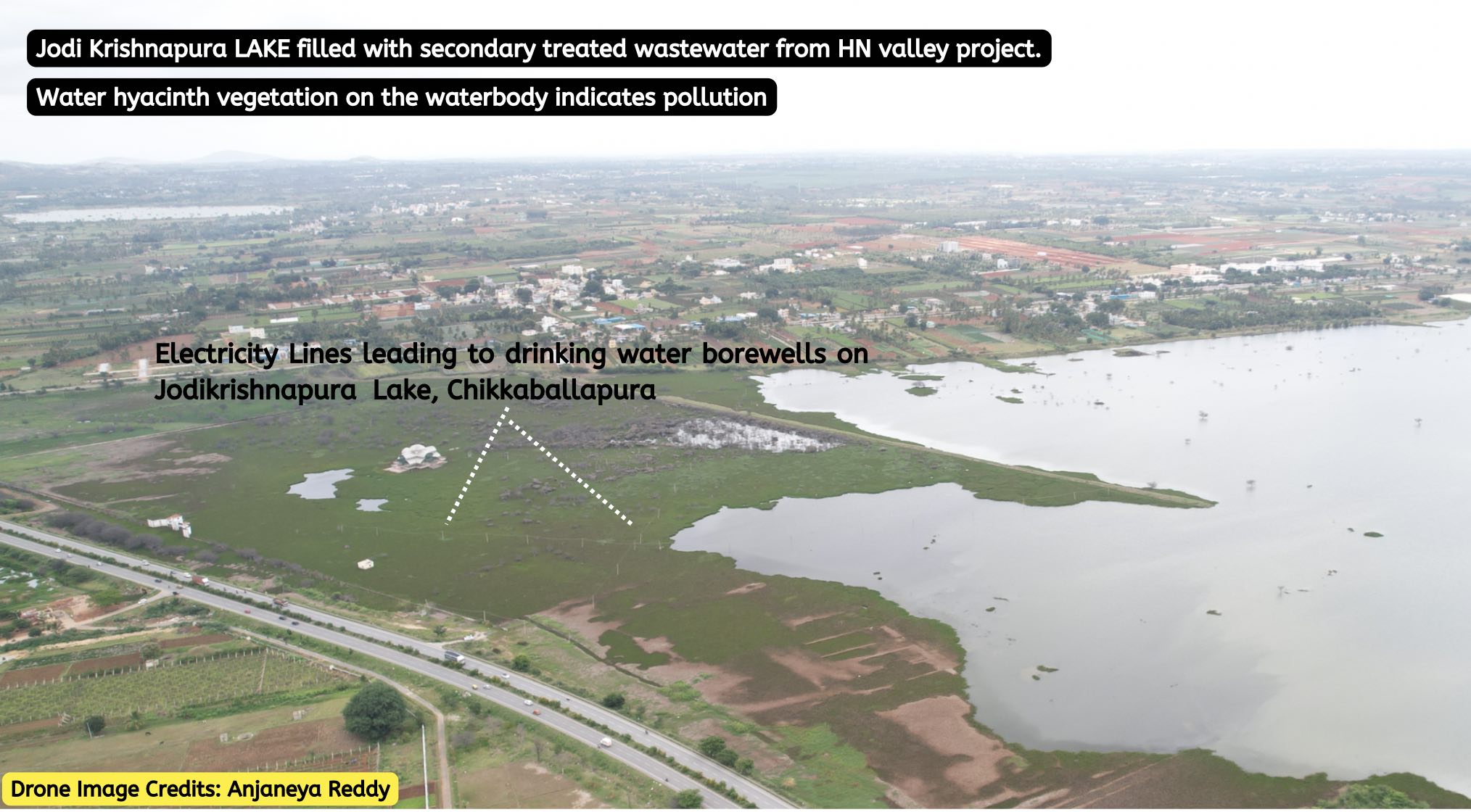 In the context of this ground reality, the Karnataka State Pollution Control Board, the regulatory body responsible for monitoring/assessing the water quality in the project area, has failed to discharge its statutory duties.
This indicates the need for strengthening institutional mechanisms where assigned functions and responsibilities are effectively carried out; else, we will be looking at environmental health crisis in the coming years.
Effective monitoring is vital for undertaking pollution control measures, seeking better treatment options, and improving the performance of sewage treatment plants. Water/wastewater data is critical for wastewater projects to inspire public confidence and gain public trust.
Citizens Ask:
Real-time monitoring of the KC valley project's wastewater discharge points (not Sewage Treatment Plants outlets).
Kolaramma Lake filled with KC valley secondary treated wastewater. Water Hyacinth is observed
2. Real-time monitoring of at least two lakes that receive secondary treated wastewater from the KC valley project.
3. KSPCB to develop a comprehensive plan to monitor the discharge points and lakes that receive secondary treated wastewater.
4. Collaborate with other research/academic institutes to investigate the fate and transport of antibiotics and other emerging contaminants from treated wastewater. (See our narrative on Emerging Contaminants)
5. Research and publish data on which wastewater treatment technology currently present in Bengaluru best removes antibiotics and other emerging contaminants.
6. Make monitoring data and research publicly accessible.