The Arkavathi River map is published to make relevant data and information on Arkavathi river easily accessible. This map is of relevance to policymakers, lawyers, researchers, academicians, students, and citizens interested in the conservation of Arkavathi river.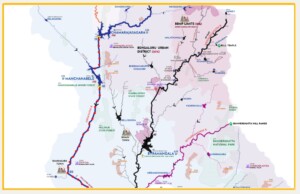 The map draws attention to a wide range of human activities affecting the Arkavathi river: Dams, Industrial clusters, Sewage treatment plants, Industrial effluent treatment plants, Hazardous waste Landfills, Urban centers, Open-pit quarries, Hydropower plants, and Polluted river stretches. It shows the concentration of stressors in one area relative to concentration in another area. It shows the proximity of quarries to major dam infrastructure. It shows back-to-back dam
The administrative boundaries are overlaid on the River basin. It is meant to convey the need to integrate man-made and natural river boundaries for effective river management and water conservation. Administrative planning units are not suitable as the river's flow and its problems do not halt at administrative boundaries.
Additionally, the map represents fundamental data (not easily available) from various government bodies: Cauvery Neeravari Nigama Limited(CNNL), Bengaluru Water Supply and Sewerage Board(BWSSB), Central Water Commission(CWC), Karnataka State Pollution Control Board(KSPCB), Minor Irrigation (MI), Central Ground Water Board (CGWB), Karnataka Renewable Energy Development Limited(KREDL), Karnataka Forest Department (KFD) and Karnataka Industrial Area Development Board(KIADB).  These various government bodies collect data and do not share with each other or any other. Such ingrained and deliberate practice of working in silos spells doom for the river. There is no single database that integrates the data points from these agencies to give a holistic view. Our next step is to do just that. Our goal is to build that holistic narrative.
We have laboriously researched online, obtained information via right to information act, discussed with government engineers, verified the data on ground and acquired geo-spatial skills like QGIS, remote sensing with Google Earth Engine to put this together. The details of data sources are in references below
River basin represented in a map-infographic format allows us to convey information and findings in an easily understandable format. If you have data to add, drop an email to connect@paani.earth.Due credit will be given.
CITATION: Paani.Earth. (2022). Arkavathi River Basin Map. https://paani.earth/arkavathi-river/
Geo-spatial data on administrative and forest boundaries is from  Karnataka State Remote Sensing Application Centre's (KSRSAC) Karnataka Geographic Information System (K-GIS).
Survey of India Toposheets, Indiawris.gov.in, bhuvan.nrsc.gov.in along with google earth engine's  JRC Global Surface Water Mapping Layers are used to validate waterbodies data.
Quarries have been mapped by us using google earth imagery and ground truthing.
Karnataka Renewable Energy Development Limited (KREDL) website and ground truthing.
Karnataka Pollution Control Board (KSPCB) website, Information via Right to Information and ground truthing.
Central Pollution Control Board (CPCB) website.
Bengaluru Water Supply and Sewerage Board (BWSSB) website and Information via Right to Information.
Cauvery Neeravari Nigama Limited (CNNL) website and discussions with engineers.
Minor Irrigation(MI) Department via Right to Information Act, ground truthing  and discussion with the engineers.
Central Water Commission(CWC) website and ground truthing.
Central Ground Water Board (CGWB) website.
Karnataka Industrial Area Development Board (KIADB) website and ground truthing.
Datapoints were  validated from Government submissions to National Green Tribunal's in case OA 325/2015 and OA 673/2018.
River basin hydrology, Waterbodies mapping, Rainfall, Population is from Google Earth Engine Catalog. The citations:

Lehner, B., Verdin, K., Jarvis, A. (2008): New global hydrography derived from spaceborne elevation data. Eos, Transactions, AGU, 89(10): 93-94.
Lehner, B., Grill G. (2013): Global river hydrography and network routing: baseline data and new approaches to study the world's large river systems. Hydrological Processes, 27(15): 2171–2186. Data is available at www.hydrosheds.org.
Funk, Chris, Pete Peterson, Martin Landsfeld, Diego Pedreros, James Verdin, Shraddhanand Shukla, Gregory Husak, James Rowland, Laura Harrison, Andrew Hoell & Joel Michaelsen. ""The climate hazards infrared precipitation with stations—a new environmental record for monitoring extremes"". Scientific Data 2, 150066. doi:10.1038/sdata.2015.66 2015.
Center for International Earth Science Information Network – CIESIN – Columbia University. 2018. Gridded Population of the World, Version 4 (GPWv4): Population Count, Revision 11. Palisades, NY: NASA Socioeconomic Data and Applications Center (SEDAC). https://doi.org/10.7927/H4JW8BX5.
Jean-Francois Pekel, Andrew Cottam, Noel Gorelick, Alan S. Belward, High-resolution mapping of global surface water and its long-term changes. Nature 540, 418-422 (2016).