Created Date:  14 Mar 2023
Our compassion and years of commitment to understanding rivers led us to Paani.Earth. It has been a year since we launched this exclusive platform for rivers of the Cauvery Basin. 
We are celebrating our first anniversary on Mar 14th , also an international day of action for rivers. So we are writing the first letter as part of that celebration. With this letter, we share our journey, what we have achieved in the past year and our plans for this year.
This year we have lots to do. Besides mapping the lakes of Anekal Taluk, and Bengaluru Rural District, we are already building the pollution narrative of the Arkavathi River Basin (including Vrishabhavathi River & Byramanagal Tank) and polluted river stretches of the Cauvery Basin. Additionally, we are exploring Google Earth Engine (GEE) as part of IIT Tirupathi's NAV-I-GEE research program. We hope this engagement might help us understand the use of GEE for generating reliable datapoints on rivers/lakes of the Cauvery Basin.
We still remember, fondly & nervously, the rocky road we took from ideation to the actual creation of Paani. The cacophony of the naysayers was eroding our confidence, and we almost gave up. But, something held us, something strong and fierce. It nudged us forward. It was like we didn't have a choice. At some point, we were too disturbed to care and said: we will go where this takes us.
Looking back, we are often shocked at what we have done. The sheer audacity of it bewilders us. It drives us. It also gives immense joy to see something so meaningful & powerful come into being, literally from nothing.
The journey was and continues to be both painful and joyous at the same time. Collecting, sorting, analyzing, interviewing & ground truthing to build a meaningful and, most importantly, unbiased narrative from a copious amount of good and bad data is very laborious. The investigations on the ground often run contrary to what the numbers say and what is generally reported, throwing our analysis into chaos. Besides, the stark realities disturb us. During this phase, our minds are processing day & night, and it sometimes drives us nuts. Once the analysis is figured out, the presentation of it is a process that none of us can get a grip on. Finally, when we complete it all, the work ferments while it's checked, rechecked, and altered before debuting on the platform—a brief sigh of relief. Then we move on to the next project, and the process starts again.
As we continue down this path, we are thrilled to share our achievements & activities in the past year. All images are clickable.


On-Ground Investigations:
A big part of our job is to investigate at the ground level.  Seeing firsthand to understand what is ailing our rivers/lakes feeds into an honest, unbiased narrative. This activity happens all year round.The photos below are representative of Paani's on-ground efforts.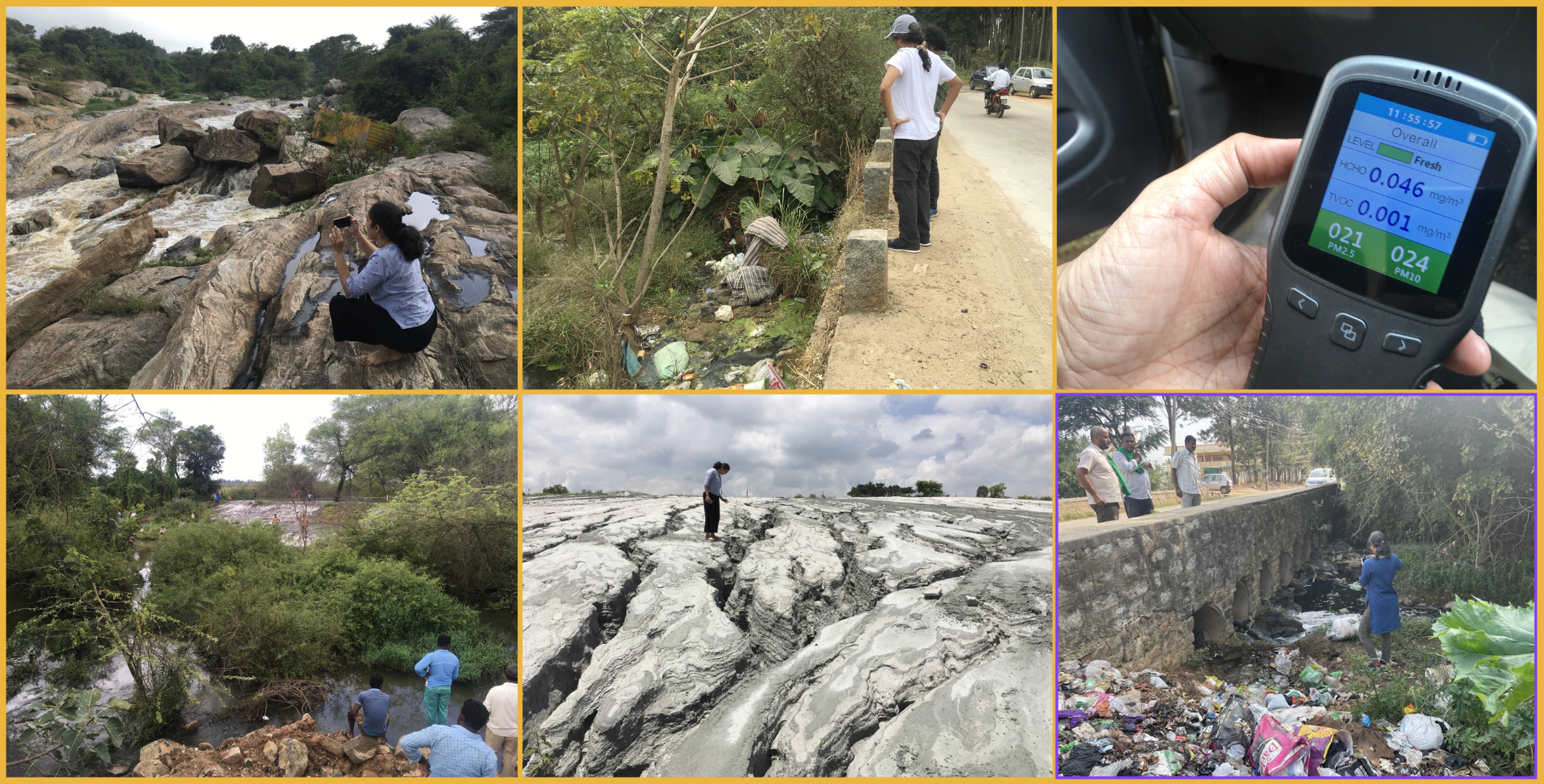 Mar 2023: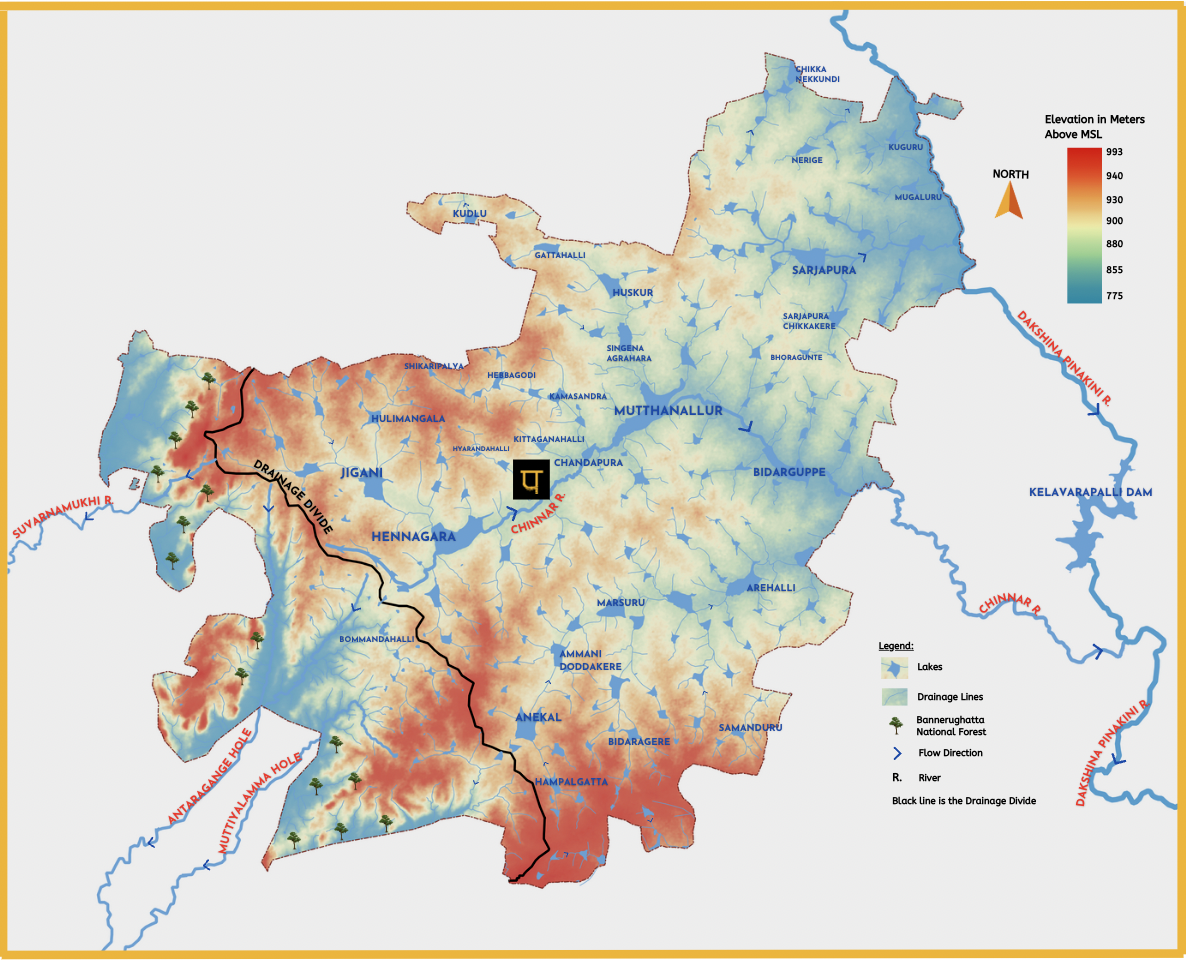 Launched the Anekal Platform with the release of Anekal Hydrology Map-Infographic.
On international Women's day, we spoke about Paani.Earth's ethos, culture and what sustainability means for us, at Capgemini.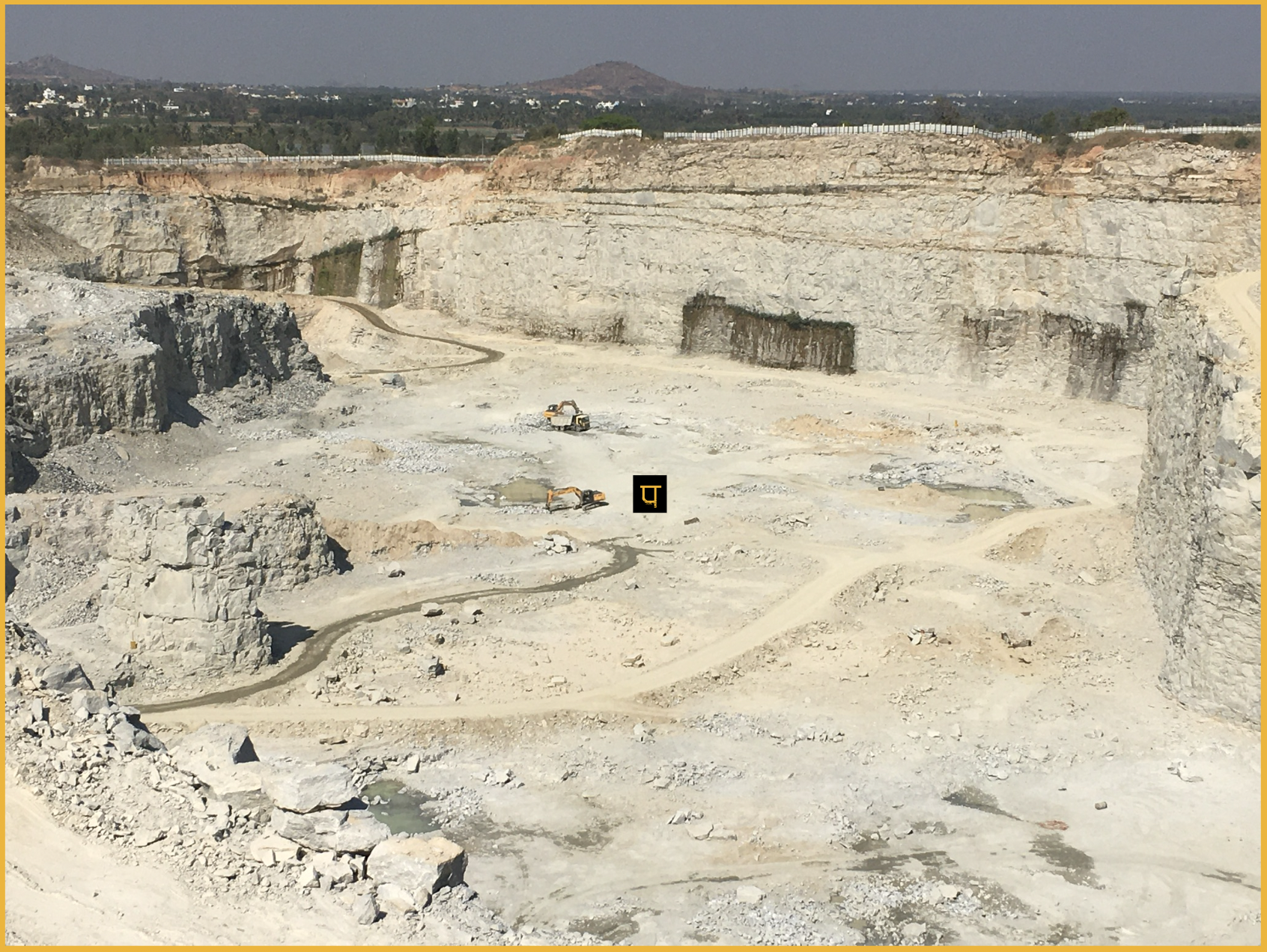 The photo on the right, taken during our survey near Devanahalli, represents our effort on the ground to understand quarries.

Dec 2022: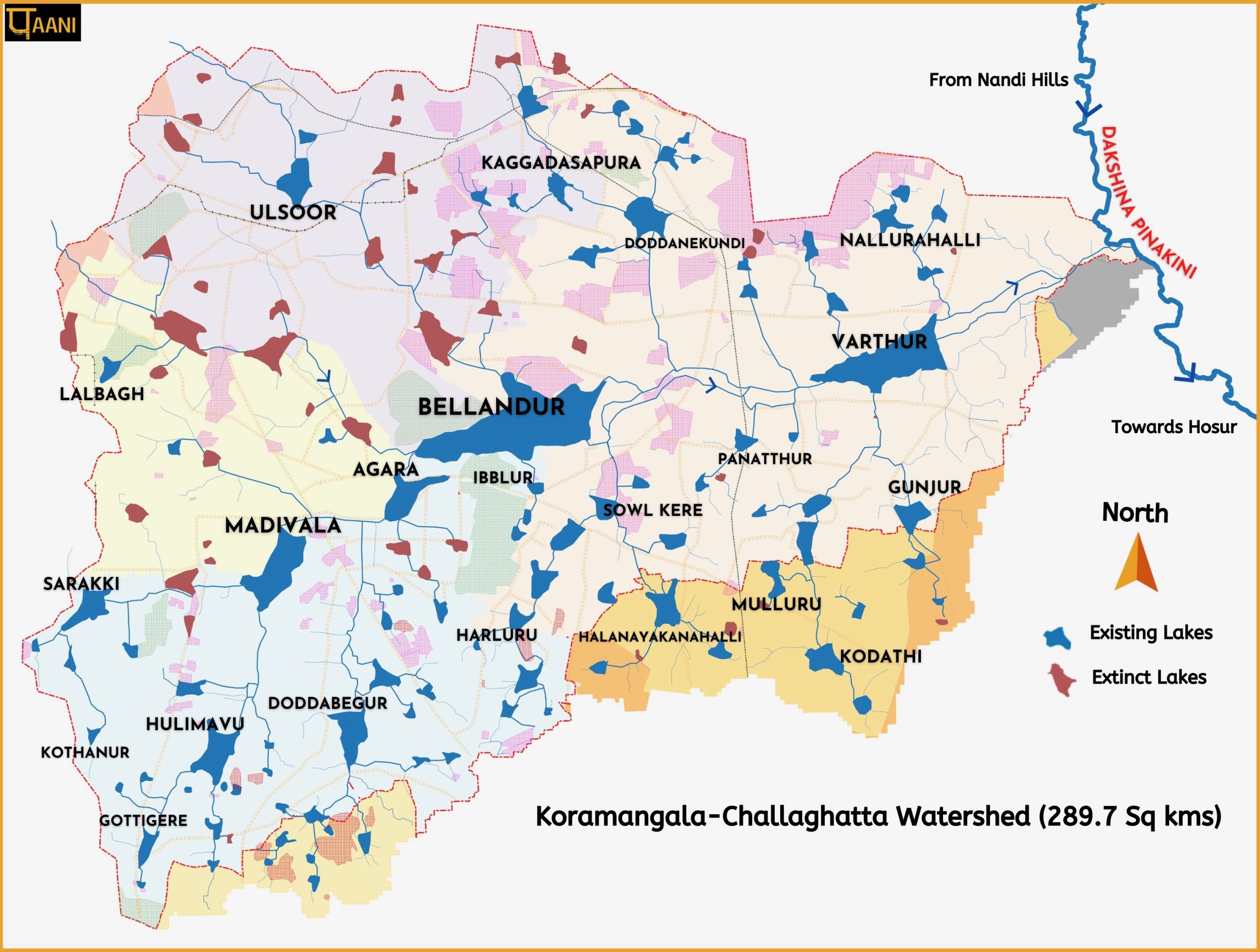 Released Detailed Hydrology  of Koramangala Challaghatta (KC Watershed). This is the Bellandur-Varthur Lake Watershed.
Some parts of the hydrology narrative was inadequately covered by Times of India.
The map can also be found on opencity


Nov 2022: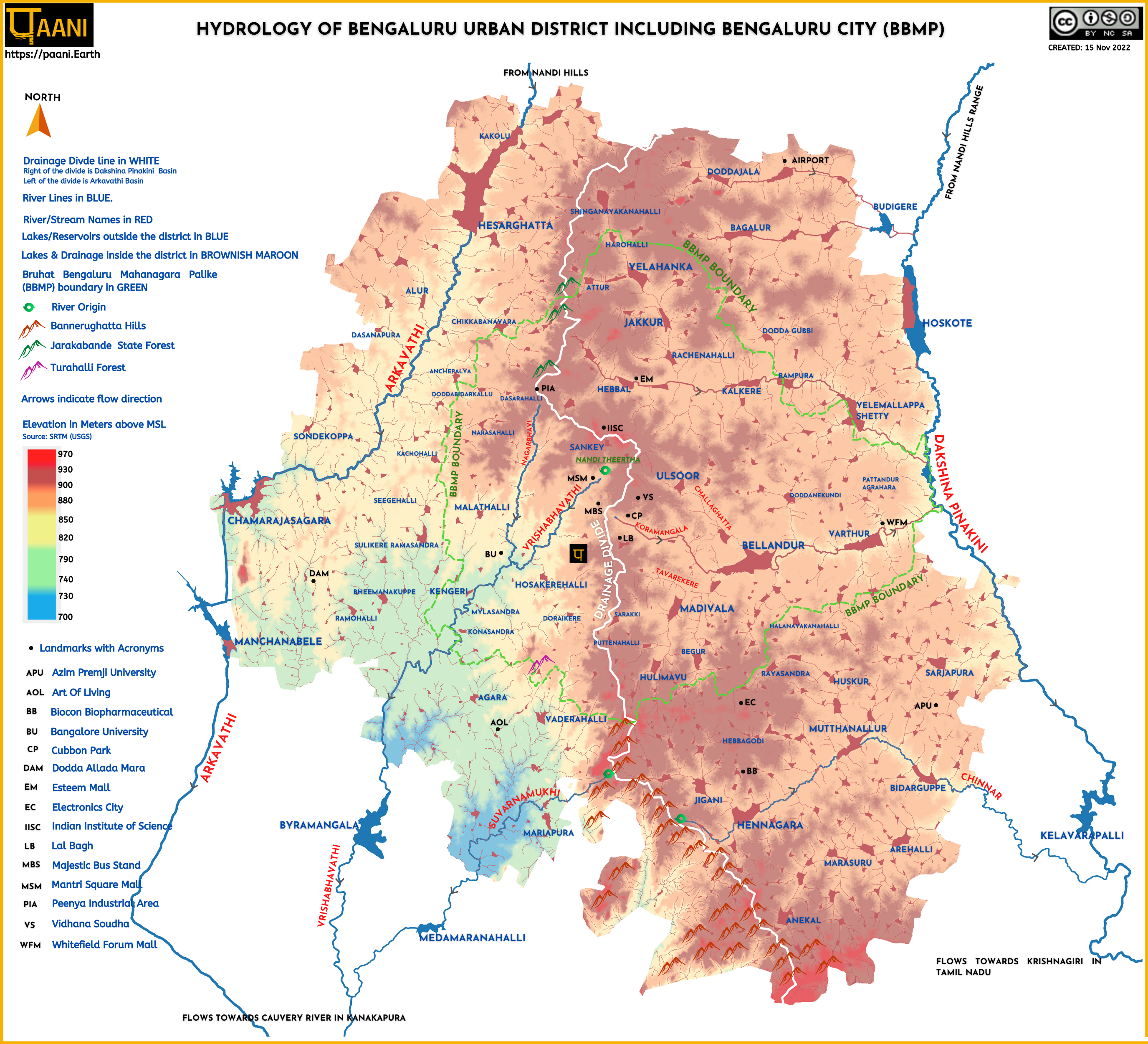 A very busy month. We took a big step registering Paani Earth Foundation as a trust, opened bank account and applied for 12A (Charitable Status) and 80G (Income tax exemption)
Released the introductory Dakshina Pinakini River Map, a necessary context for Bellandur-Varthur Watershed and the waterbodies of Anekal Taluk .
Released one of our most popular map-infographic: The Hydrology of Bengaluru Urban District
We  gave an online presentation of our work in an event organised by Global Water Works.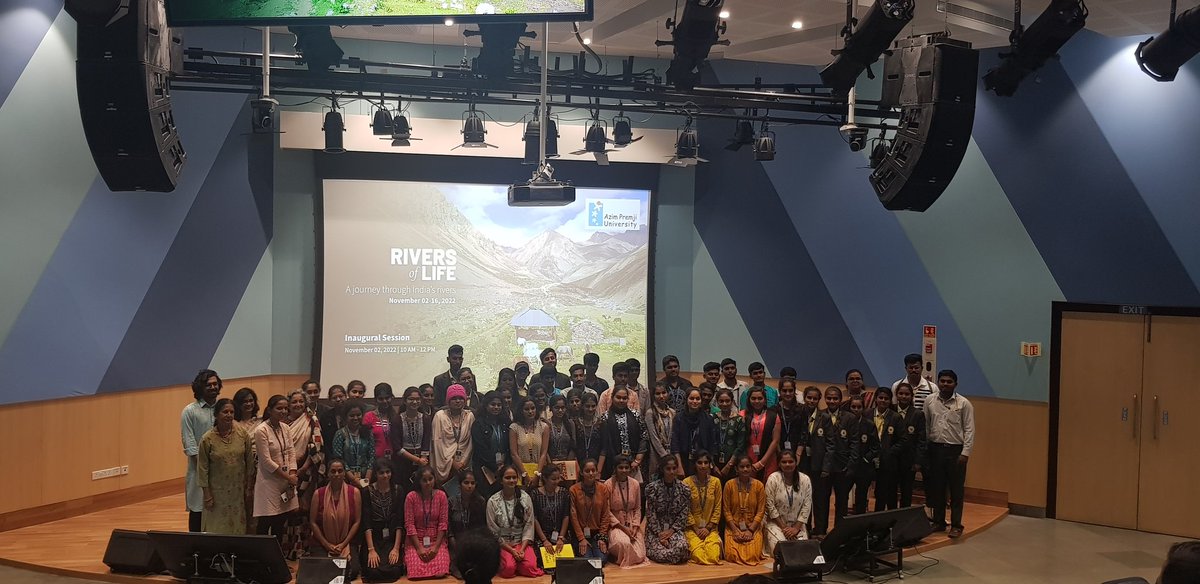 We also participated in the Azim Premji University's 'Rivers of Life'.  We gave an in-person presentation on Vrishabhavathi River in the university campus. The group photo after the presentation is on the right.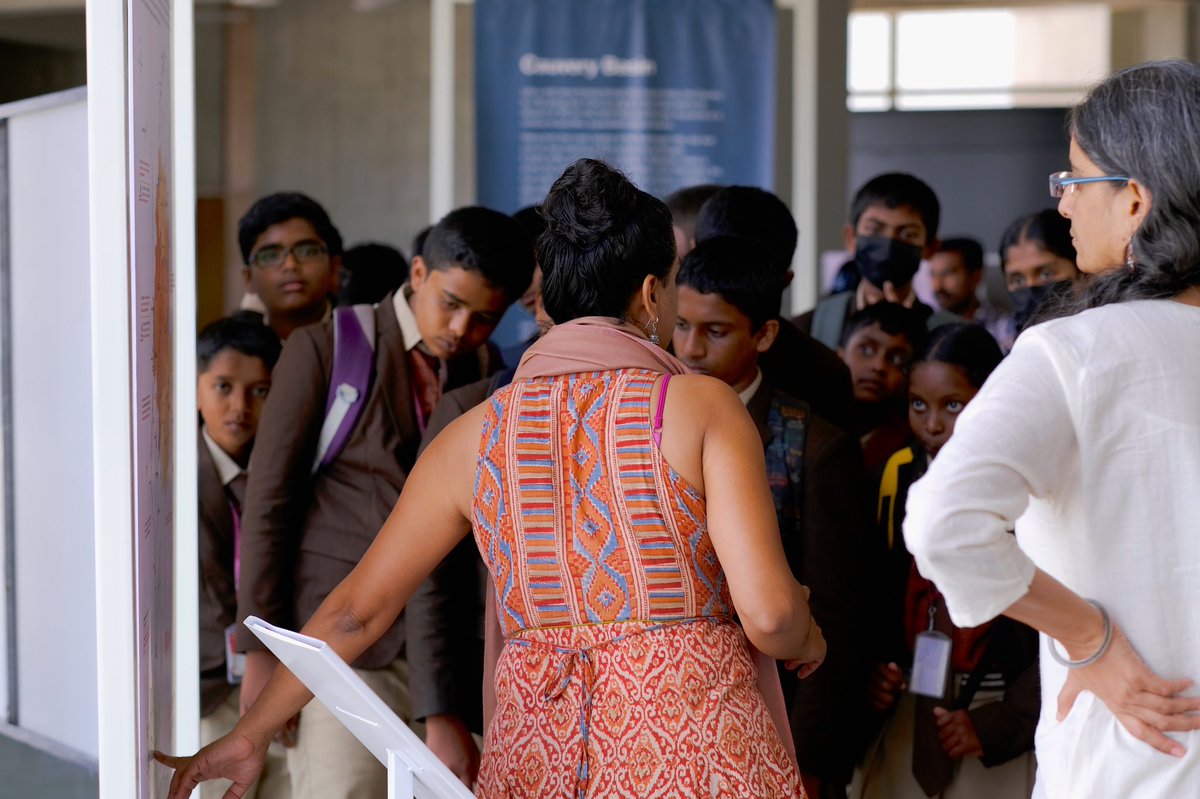 Paani.Earth's 'Rivers of Bengaluru' Map was displayed. On the left is the Paani team interacting with the students on Rivers of Bengaluru.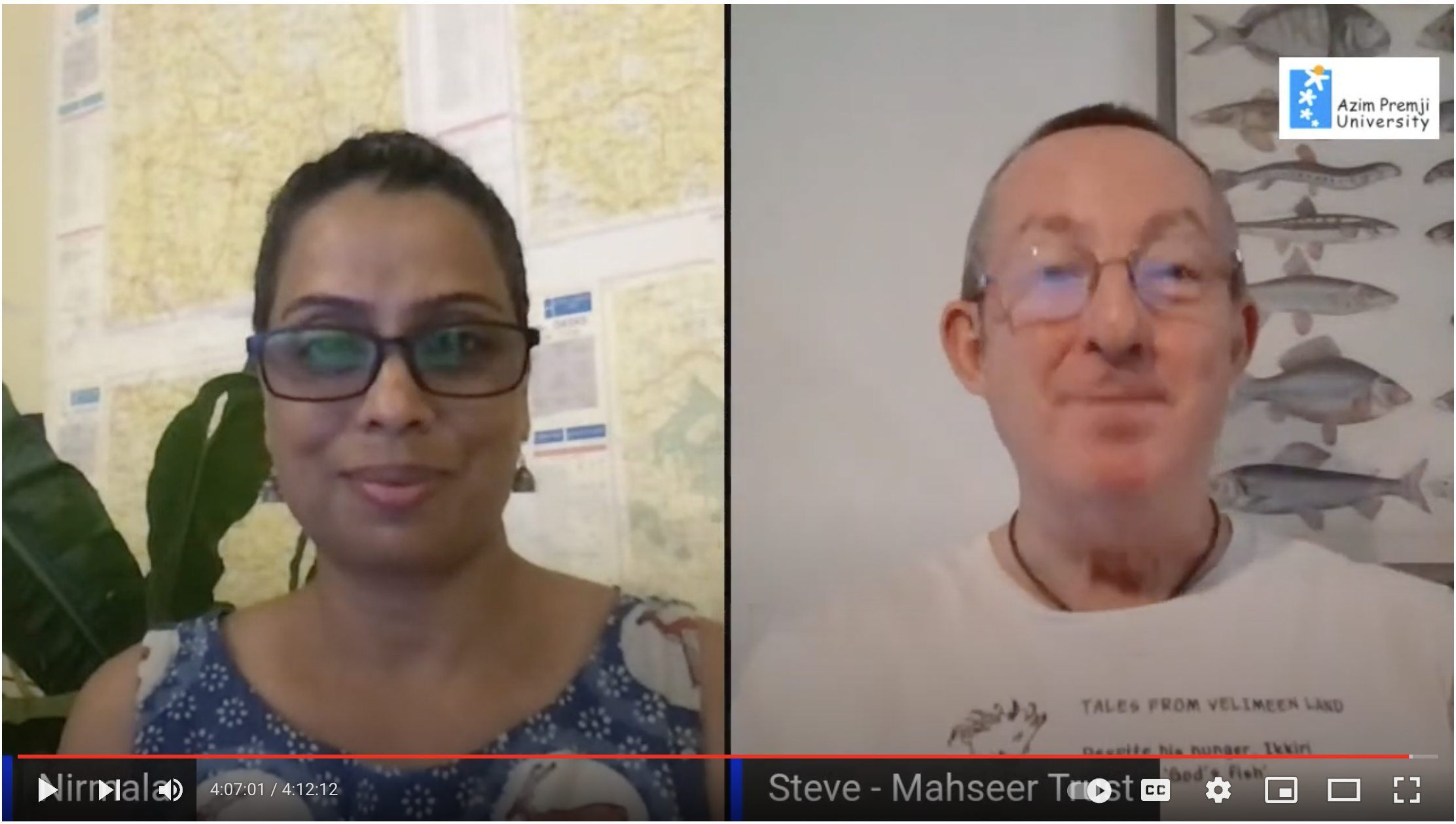 Rivers of Life also organised  an online presentation on Cauvery Basin, in which we participated. Click the video below to watch the presentation.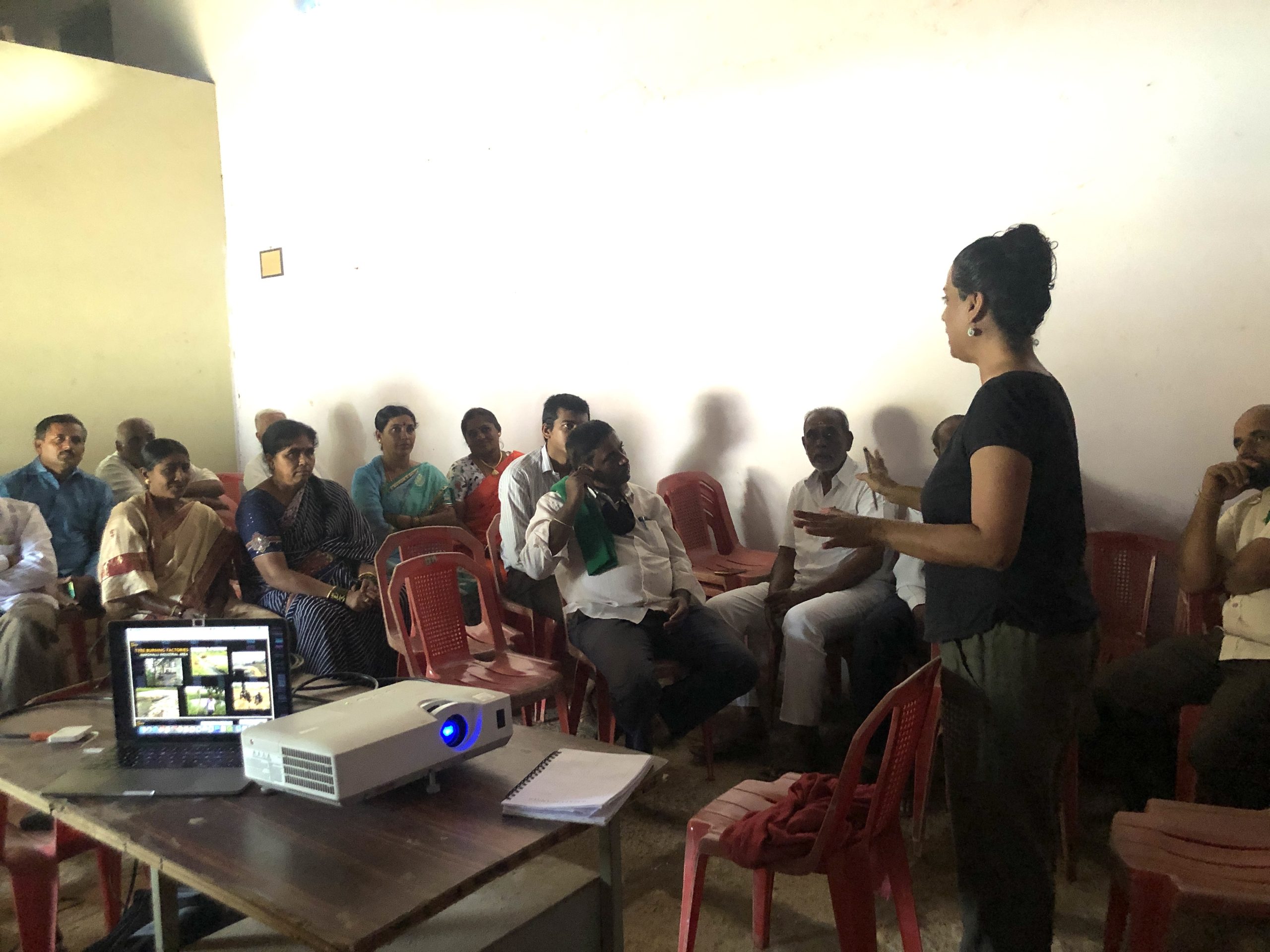 Upon invitation from the farmers of Doddaballapura, we engaged in a deep conversation on chemical pollution of waterbodies and what it means from a statutory point of view.

Oct 2022: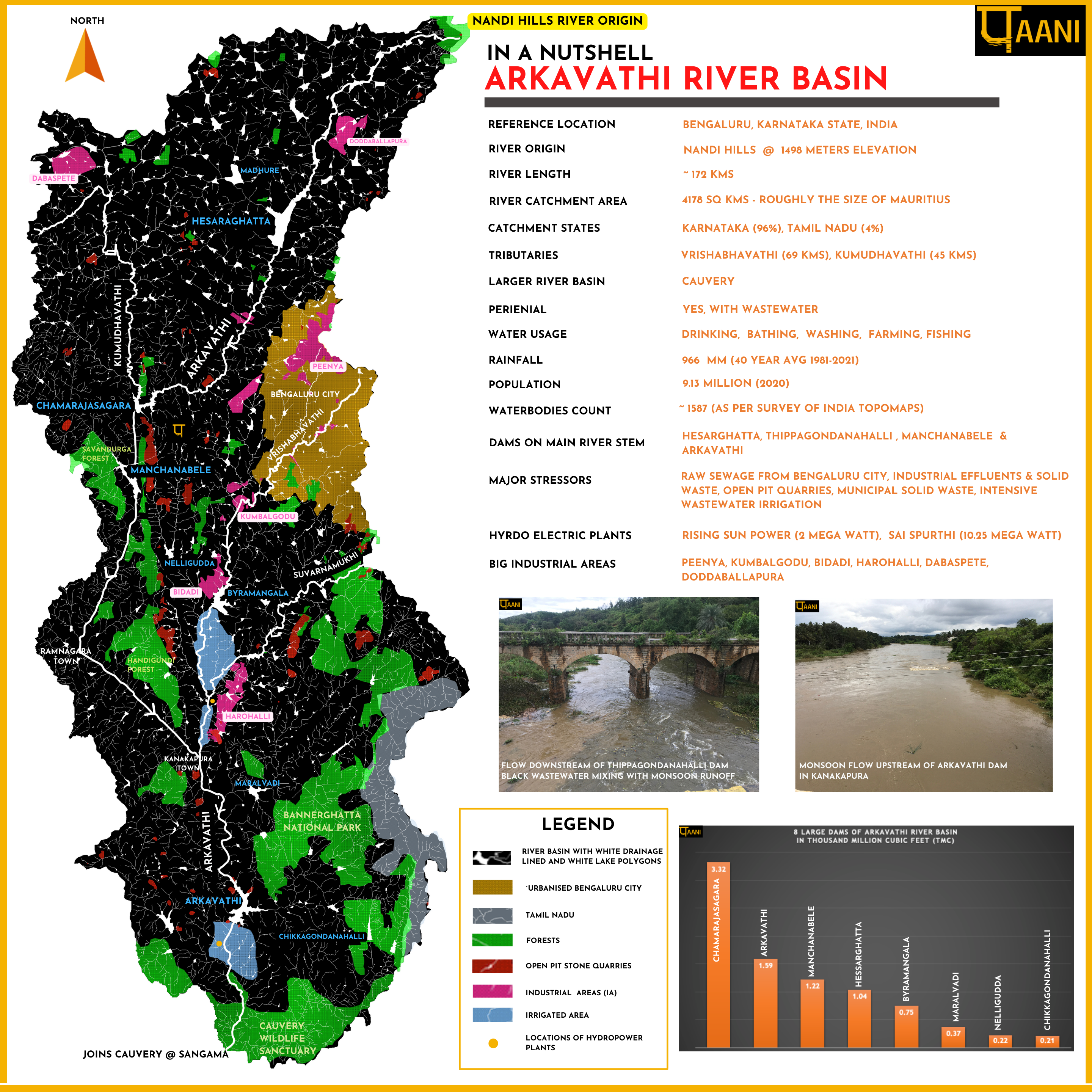 Released Arkavathi in a Nutshell.
India Water Portal, an initiative of Arghyam posted 'Visualizing the Vrishabhavathi river to keep it alive'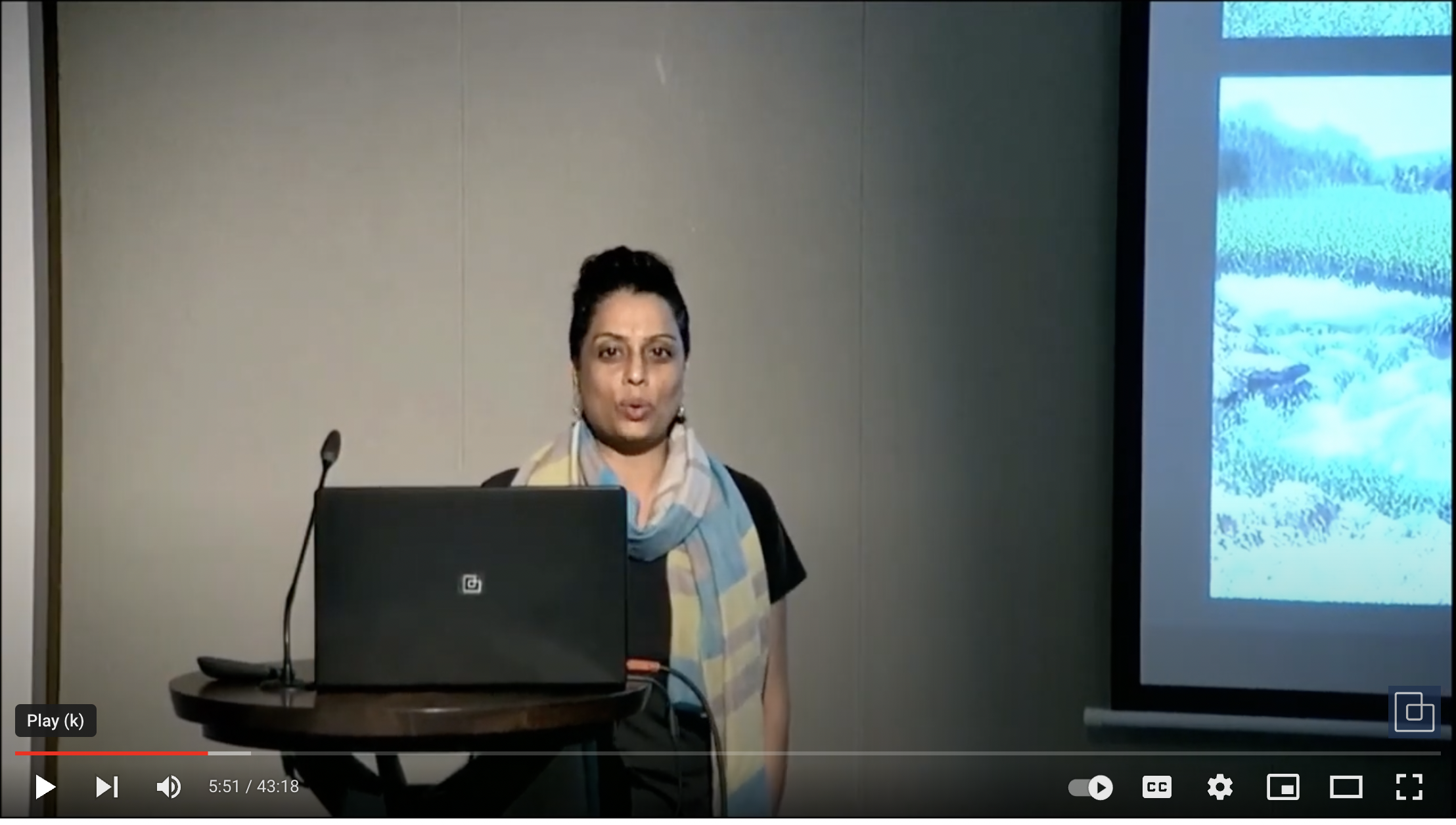 On the 13th , we presented at Bangalore International Center (BIC) on topic of Bengaluru floods: Living with storms. Click the video on the right for the presentation.

Sep 2022: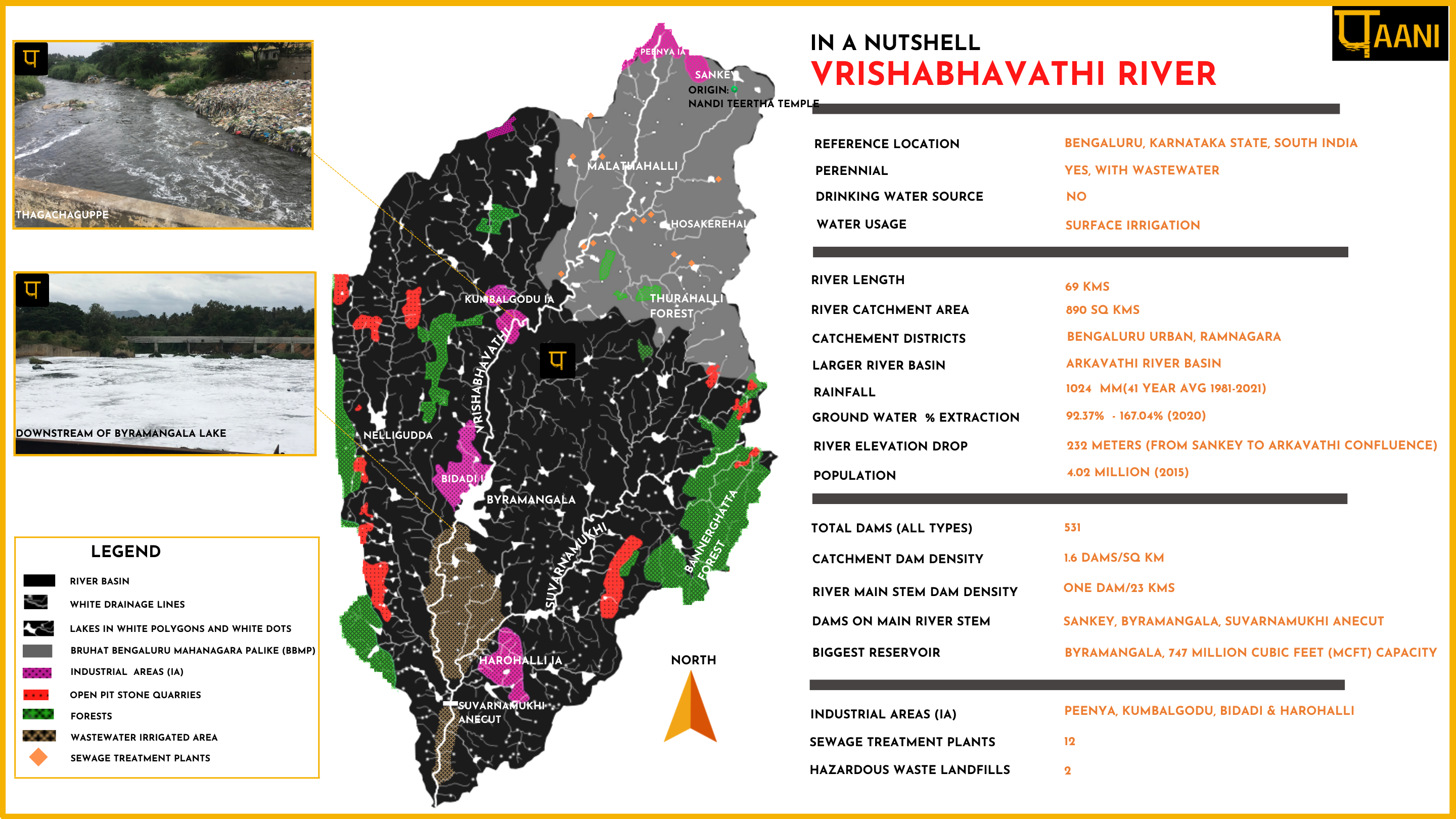 Released Vrishabhavathi River in a Nutshell  along with other river basin datapoints like River origin, Rainfall & Groundwater status etc
Around the same time, we were selected to join the Women and Rivers Accelerator Program. 
We presented in a webinar organised by INHAF: The Challenge of Bengaluru's Water Governance. The Video presentation can be found here

Aug 2022:
A dialogue on 'Rivers of Bengaluru' by the Paani.Earth Team at the Azim Premji University Campus. Click video below to play the presentation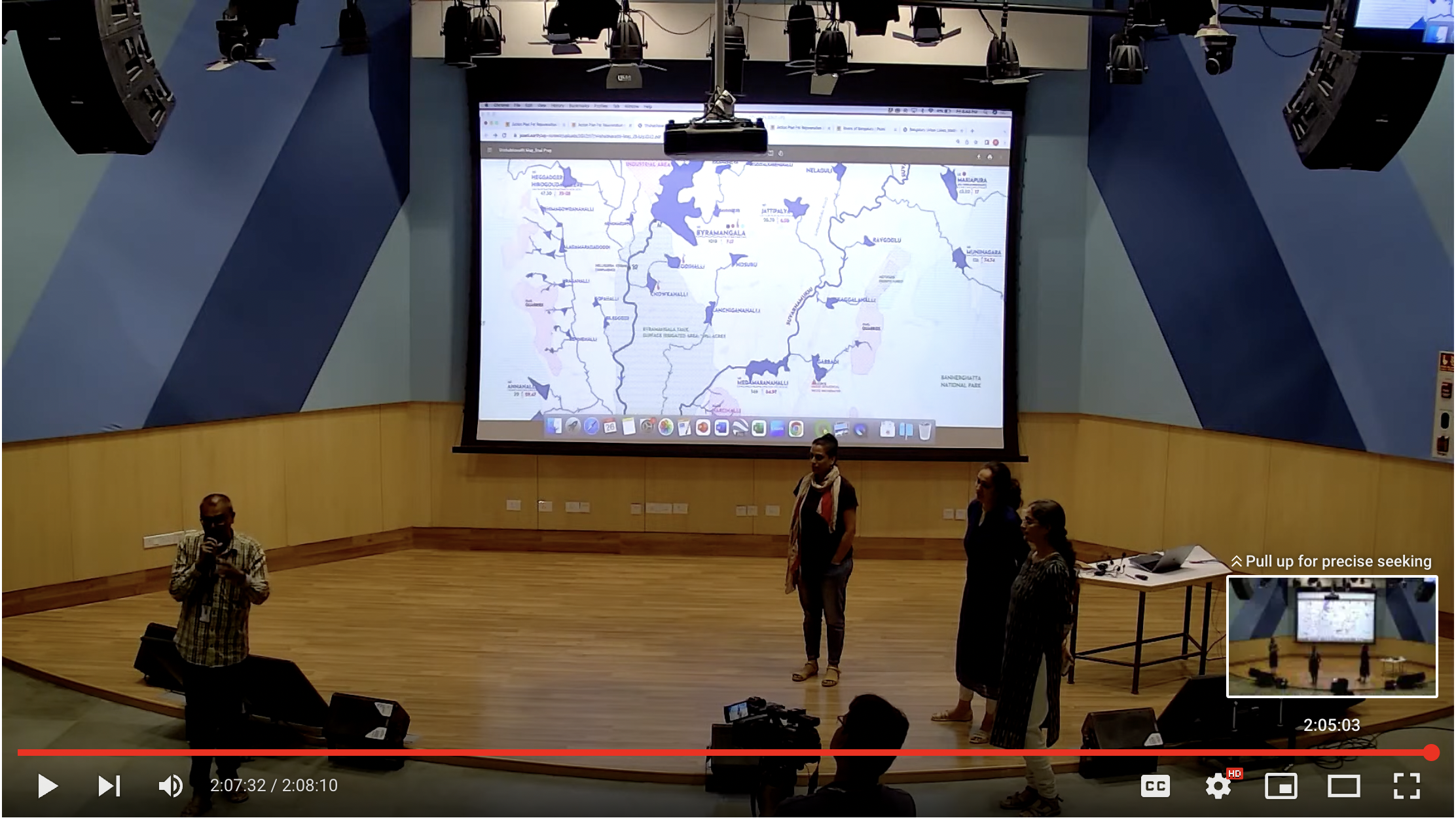 July 2022:
Release of Detailed Vrishabhavathi river Map.
The map is a colorful and slightly complex map, that plots a wide range of human activities affecting the river: Industrial clusters, Sewage treatment plants, Industrial effluent treatment plants, Hazardous waste Landfills, Urban centers, Open-pit quarries, Hydropower plants, etc. It also provides details of lakes in the basin along with drainage and flow direction.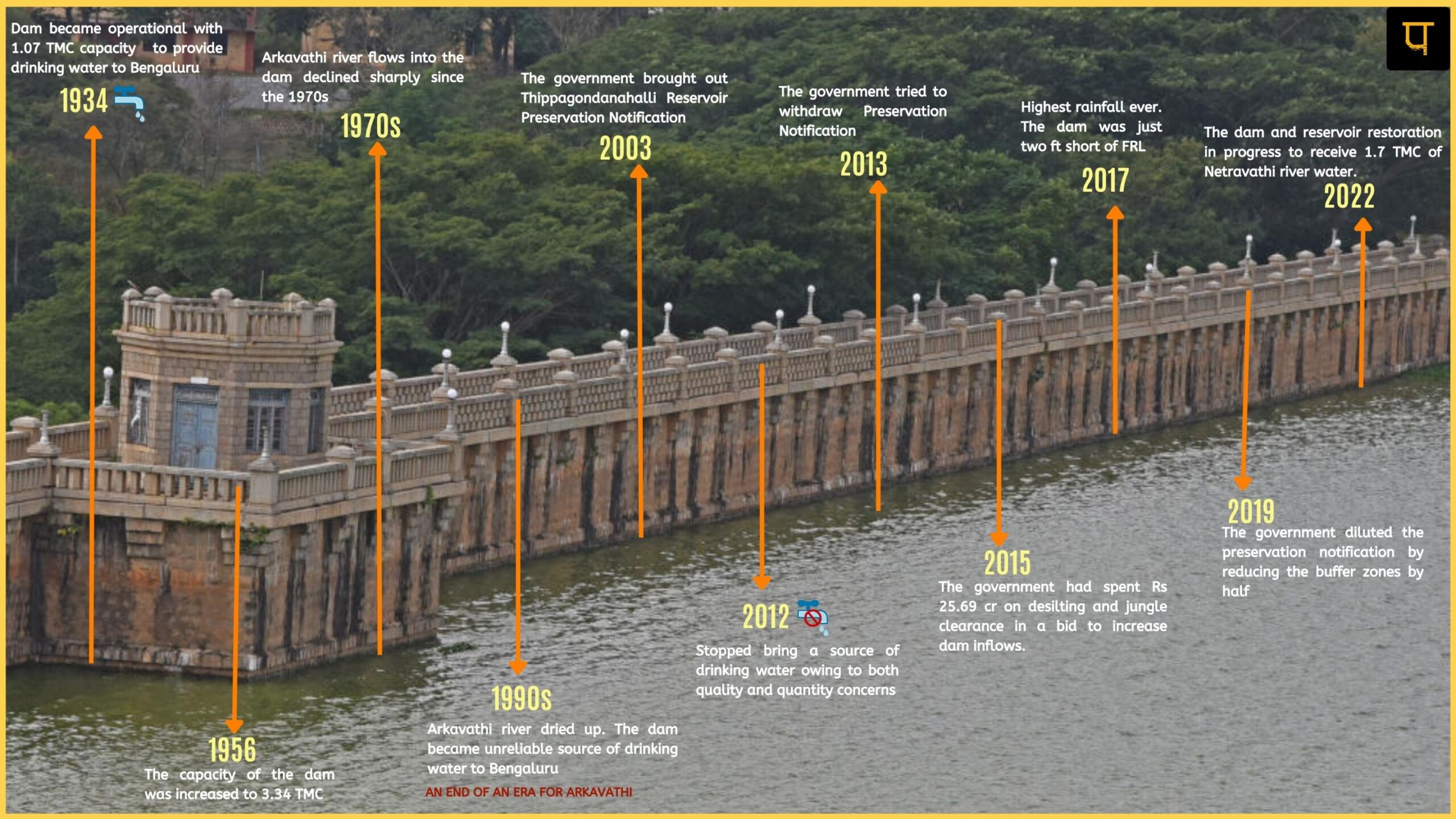 Released detailed timeline narrative: Rise & Fall of Thippagondanahalli Dam.
This is critical for understanding,  how our handling of rivers has gotten us perilously close to running out of water.
It shows how decisions to over-exploit the already strained rivers like Cauvery emerge.  It also shows both-handedness: The silent and almost unnoticed death of the Arkavathi river and a bloodshed-ridden violent claim to Cauvery river water. This story serves as a constant reminder that whatever we have done and are doing, to protect and conserve the rivers,  is clearly not enough.

Jun 2022: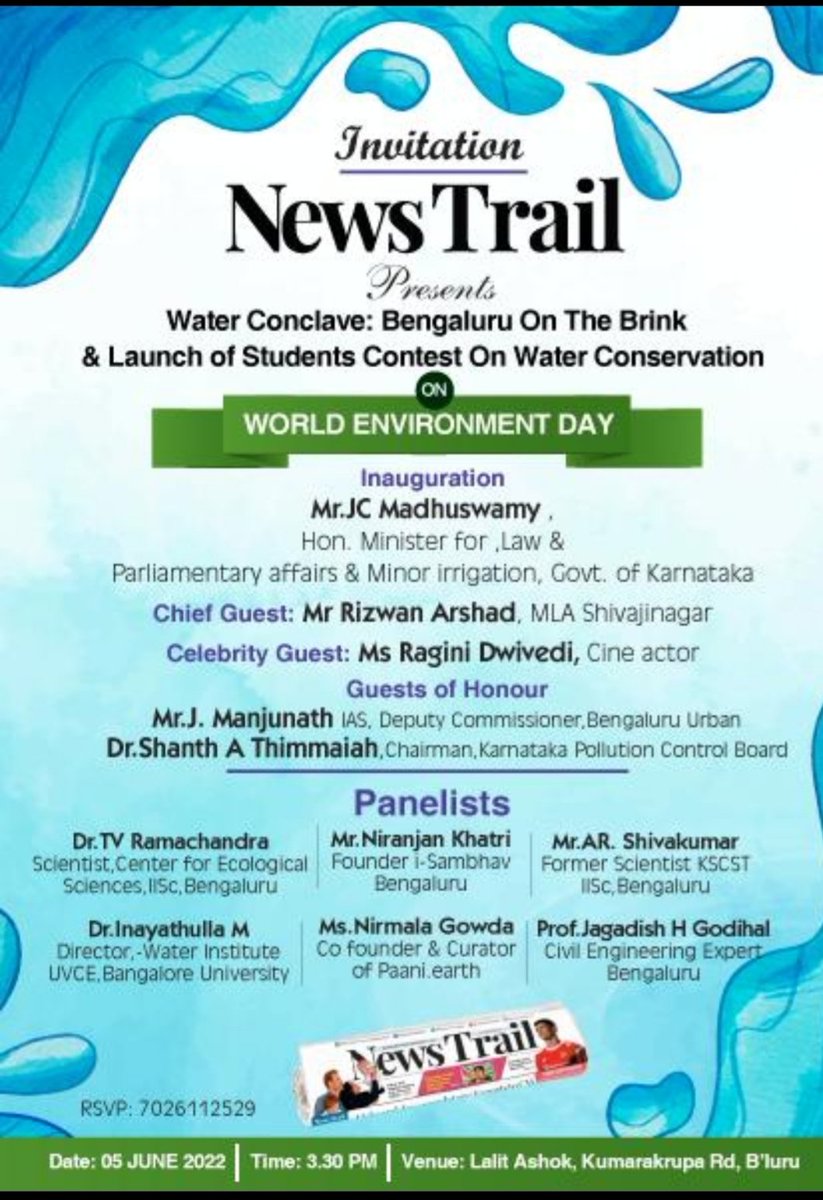 South Asia Network on Dams Rivers and People (SANDRP) listed us as one of the top ten positive stories from India with regards to Urban rivers.
We presented at NewsTrail's World Environment Day event: Water Conclave: Bengaluru on the Brink as shown in the image to the left.

Apr 2022: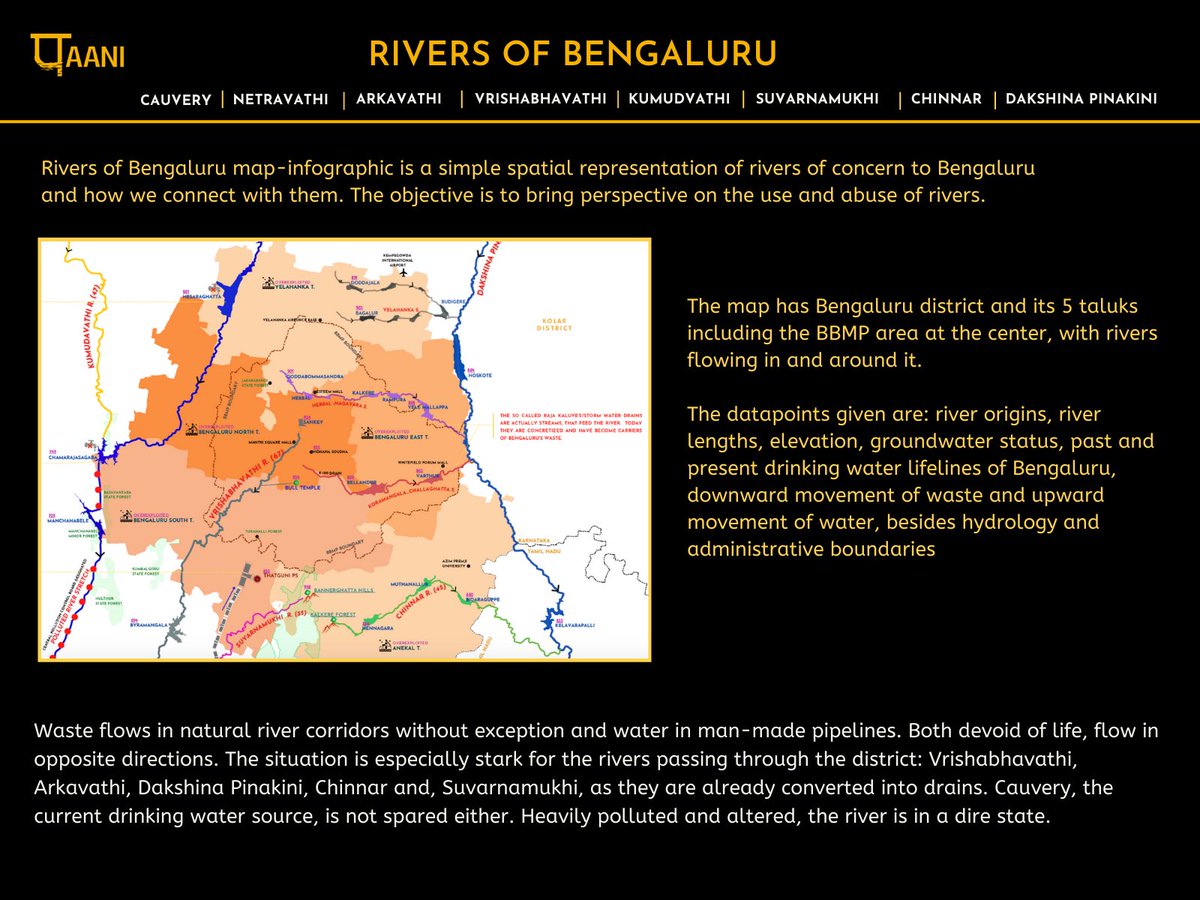 The very popular map-narrative, 'Rivers of Bengaluru'  was released.
We also released the profile of the largest reservoir on Arkavathi River – Thippagondanahalli.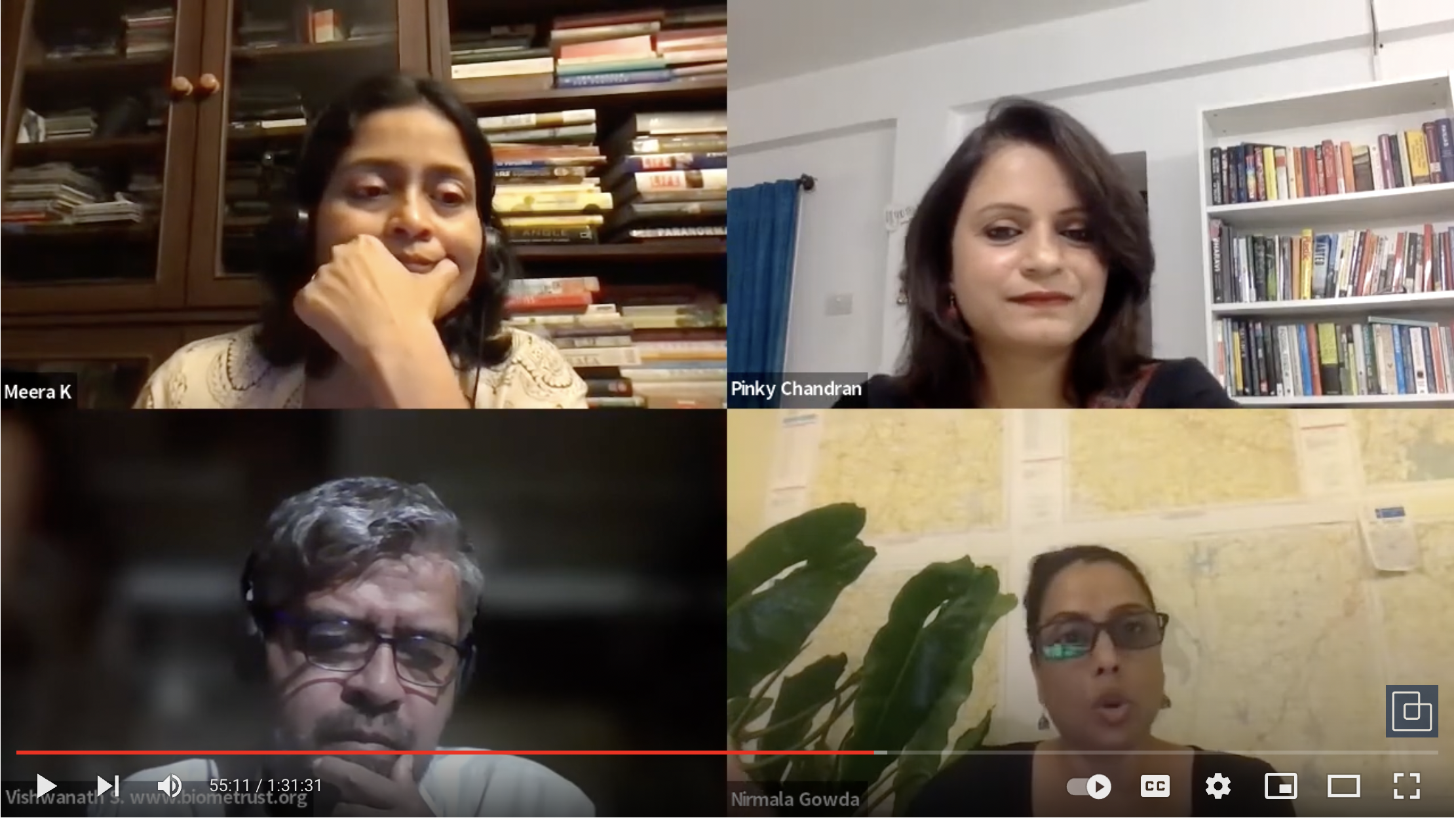 In an online event organised by Bangalore International Center & Citizen Matters, we discussed the Rivers of Bengaluru. Click the video on the right for  the discussion

Mar 2022: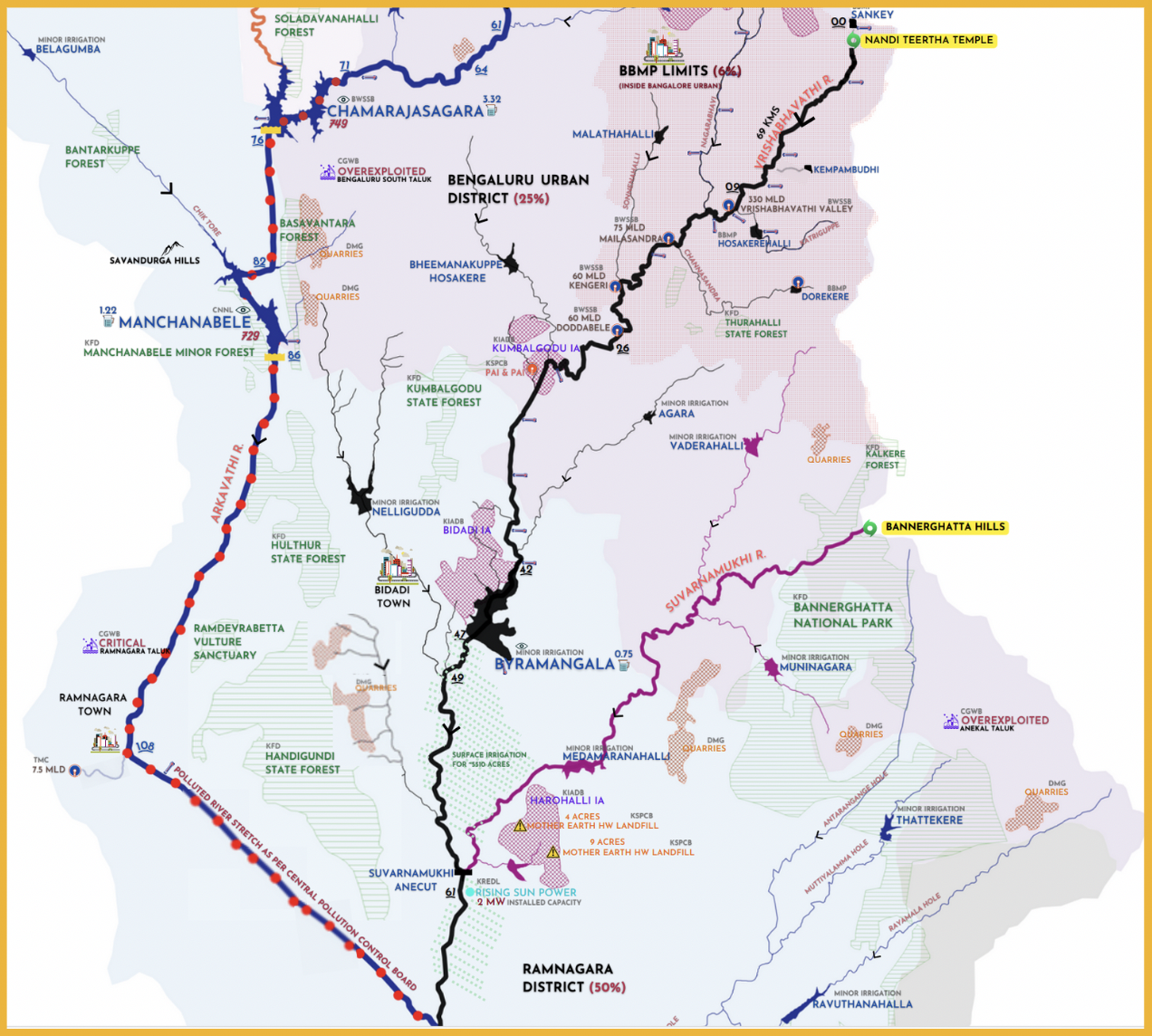 Paani.Earth's First Release: Arkavathi River Basin Map
The Arkavathi river basin stressors map shows a wide range of human stressors affecting Arkavathi: Dams, Industrial clusters, Sewage treatment plants, Effluent treatment plants, Hazardous waste Landfills, Urban centers, Open-pit quarries, Hydropower plants, and polluted river stretches. It shows the proximity of quarries to major dam infrastructure. It shows back-to-back dams.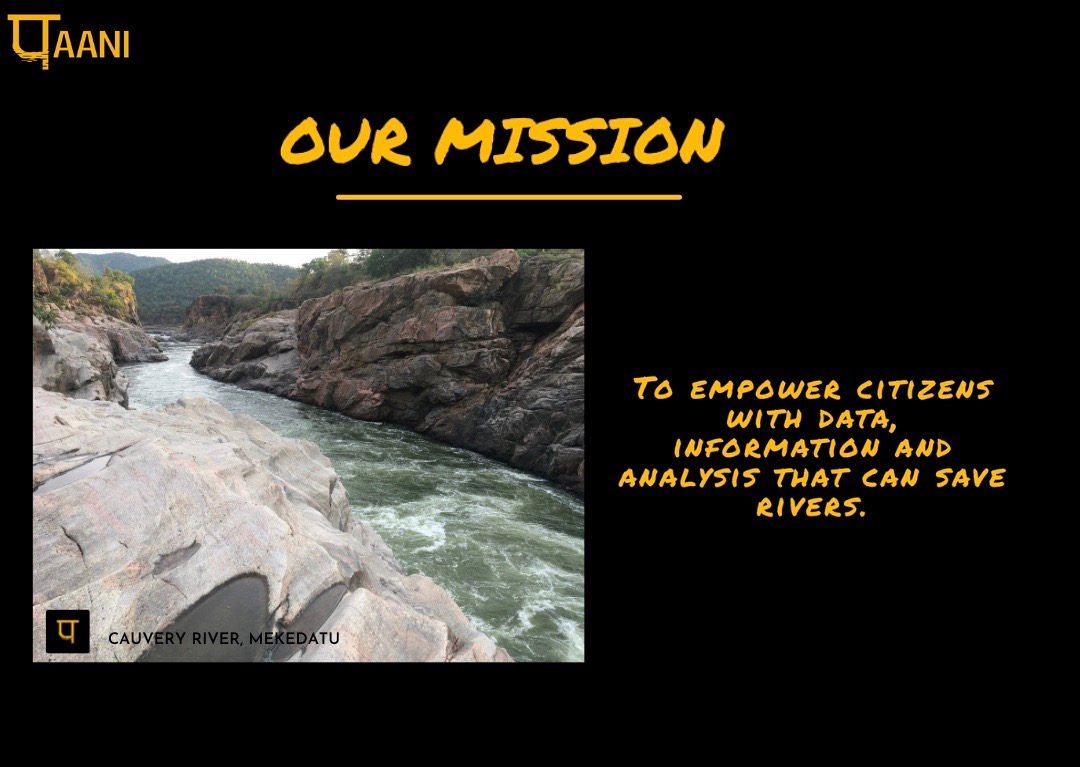 Paani.Earth came online.
Last year, we ran at great speed and did many, many things. We are settling into our roles this year and hope to maintain a sustainable pace. However, a sustainable pace is already proving to be a challenge as the request for support by citizens is more than ever. Wish us luck!